Dr. Joanne Kong is a renowned author, animal advocate, and public speaker who promotes vegan living and spreads compassion for animals around the world. She was featured in the documentary Eating Our Way to Extinction and edited the new book Vegan Voices: Essays by Inspiring Changemakers—which features a contribution by PETA President Ingrid Newkirk. Kong's TEDx Talk, "The Power of Plant-Based Eating," has reached more than 1 million viewers.
PETA Prime was delighted to have the opportunity to learn more about Kong's inspiring work.
When was your first "ah-ha!" moment that motivated you to go vegan and advocate for animals?
My journey to veganism began in 1985 when I read the book Animal Factories by Peter Singer and Jim Mason. This was a groundbreaking and controversial book—among the very first to expose the cruelty of animal agriculture. It was truly a "light-bulb moment," a wake-up call, and I wondered how I could have been so blind to the immense suffering and violence that animals endure in the meat, egg, and dairy industries. About eight years ago, I arrived at a point in my life when I knew it was time to dedicate myself to spreading this important message: How we regard and treat our fellow beings is at the core of our identity and affects our future sustainability as a species on the Earth. How can humankind continue its massive indifference to other animals (after all, we are animals, too!) who share all the traits of sentient beings? My goal is to instill in others the awareness that the greatest gift we can give is our compassion.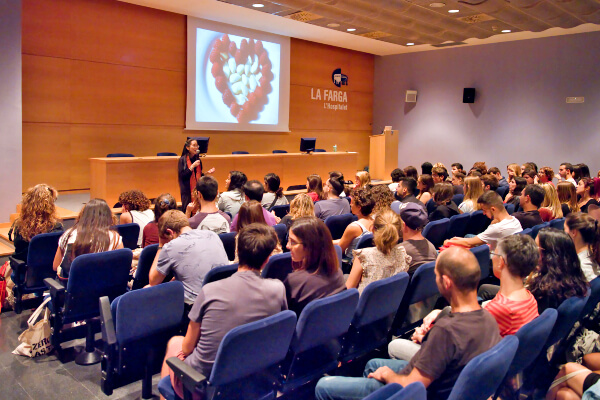 How do you use your education, career, and platform to spread compassion for animals?
My career background as a longtime college professor and professional musician has definitely helped me in my animal advocacy work. In both activities, I regularly engage in speaking, writing, performing, and creating. These are all skills I constantly draw upon in my frequent animal rights–related public talks and presentations. People often ask me what music and vegan living have in common, and I point out that both usually attract those with a heightened sensitivity and desire to connect emotionally with others. During my TEDx Talk, I took on the role of a mother pig in order to encourage an empathetic connection in my listeners: "Did you know? I have a sense of self, just like you. I am a highly social creature, inquisitive and emotional, just like you. …  I am not something, but someone." In addition to public presentations at "veg" events and conferences, I've been a featured speaker at two National Animal Rights Day events and regularly give talks at NAVS Summerfest and for university animal advocacy student organizations. In my travels, I often hand out a small booklet that I wrote—If You've Ever Loved an Animal, Go Vegan—which includes short reflections and quotes to guide people toward a more compassionate awareness.
You recently compiled and edited a book called Vegan Voices: Essays by Inspiring Changemakers. What can you tell us about this book, and what were your goals in writing it?
Vegan Voices was published last fall and is available as a print book, e-book, and audiobook through Amazon and Lantern Publishing. The goal of the book is to present the diverse, unique paths people take in becoming vegan. Part of the reason that vegan eating has moved into the mainstream is that it ties into so many aspects of our lives. Adopting a vegan lifestyle is not just about good health and nutrition—it's about using our resources to produce food in the most sustainable way and being as compassionate as possible to our kindred animals. The 50 writers in the book—including PETA President Ingrid Newkirk, Victoria Moran of the Main Street Vegan Academy, vegan health professionals, athletes, filmmakers, and many more—have all found unique ways to make a difference in the world. Common ideas shared by many in the book include the importance of seeing connections among all sentient beings and the need to create a shift in humankind toward a higher level of caring. I've enjoyed introducing the book on a number of podcasts, including Jane Unchained, Compassion Consortium, and The Exam Room with Chuck Carroll.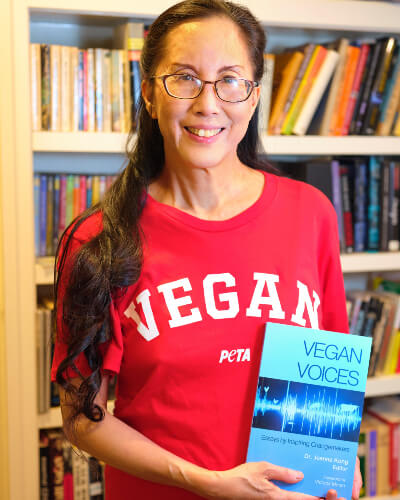 Why do you feel it's important to promote healthy, vegan eating?
Part of the journey of becoming vegan is opening our eyes and palates to the extraordinary variety and wealth of plant-based foods. Sometimes newcomers to vegan eating assume it's expensive, involves purchasing a lot of special ingredients, or takes longer to put together a vegan meal—when nothing could be further from the truth! For me, it's really about simplification of one's eating—choosing foods as close to their natural state as possible and avoiding packaged and overly processed foods that contain oils, salt, sugar, and other additives. I always tell people to "eat the rainbow," as all the vibrant colors of organic fruits and vegetables represent the array of phytonutrients that are critical to enhancing our immune systems and bodily functions. Eating vegan can be an exciting exploration of new kinds of food preparation and "being." One of my current favorite recipes is PETA's raw lasagna. As an ethical vegan and animal advocate, I can say that going vegan was the most positive, powerful, and transformative decision I ever made. As many of you reading this site can attest, being vegan is about so much more than making nutritious food choices. Every time we say no to animal-derived products, in addition to good health, we're choosing compassion, nonviolence, empathy for other sentient beings, a deeper sense of peace, and respect for all life and the planet.
When did you first get involved with PETA? Do you have a favorite PETA protest, event, or memory you'd like to share?
I am a longtime member of PETA, since 1990! It's been amazing to see, over these many years, how PETA has grown and established an impressive global outreach to help animals who are suffering in so many ways at the hands of humans. The organization's tenacity and perseverance have resulted in increased public awareness of the fact that treating our fellow animals with compassion and kindness is key to reaching an elevated consciousness. My favorite PETA moment was in the mid-1980s, when my husband and I attended a presentation by Ingrid at a local college in San Antonio. I was struck by her message, which she conveyed with both urgency and an underlying gentle compassion. She was so inspiring that in my own advocacy and public speaking, I strive to do the same: communicate the truth with graciousness and openness. I am also immensely grateful that Ingrid wrote an essay for my book Vegan Voices. In "A Birthday Surprise," she recounts how a visit to a restaurant turned into a moment of awakening when a lobster was served to her to eat. Our lives and perceptions can truly become transformed if we allow ourselves to widen our sensitivities and connections to all sentient beings around us.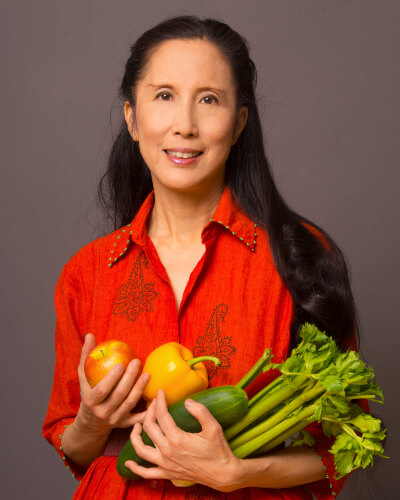 Do you have any upcoming projects or goals you are looking forward to achieving for animals?
I am looking forward to the return of more live events, as I have participated in many veg fests and conferences around the world. Recently, I joined the advisory council of Lantern Publishing & Media as well as the advisory board of River's Wish Animal Sanctuary, and I look forward to contributing to these organizations. My immediate goal is to become more immersed in using the arts in conjunction with public speaking. I am a classical pianist, and music is a powerful means of communication that speaks directly to our sensitive capacities, acting as another sensory pathway to broaden and strengthen our advocacy for animals. This coming year, I will be involved in providing music for the Compassion Arts Festival on the topic of "Animals and War" and will be giving creative presentations with vegan cellist Christoph Wagner. I also plan to do joint activities in the future with the wonderful baritone Bülent Güneralp, PETA Prime's 2020 Most Beautiful Vegan Over 50.
Do you have any advice for fellow animal advocates who want to use their talents to help end speciesism?
There are so many ways to spread the positive messages of vegan living and animal rights, and anyone can become an effective advocate! My first piece of advice would be to become as knowledgeable as possible, as there is so much to learn. I actually keep notebooks filled with information that I've picked up over the years and also jot down some of the most common questions and concerns that people bring up during my public presentations. It's a never-ending journey, but our arsenal of knowledge is critical in advocating for animals with passion and clarity. Beginner advocates can think about what type of activity best fits their unique skill set and personality and what they are most comfortable with. Speaking, writing, community organizing, street activism, leafletting and tabling, volunteering at an animal sanctuary—these are just some of the many ways in which we can contribute to a strong collective voice that speaks out for animals. And don't underestimate how a simple thing like wearing a PETA T-shirt or vegan-themed buttons and hats can become conversation starters. Every person we connect with is important. Being an effective advocate is about listening, encouraging discussions (rather than arguments), understanding where a person is coming from and what they value, and helping others realize that having greater compassion for all animals is the most powerful thing we can do to create positive change in the world.
Thank you, PETA Prime, for this wonderful interview opportunity!
*****
Dr. Joanne Kong is currently a faculty member and sustainability advisor at the University of Richmond in Virginia. She has been a member of PETA for over 30 years and serves on the advisory board of River's Wish Animal Sanctuary in Spokane, Washington. She is also an award-winning classical pianist with a doctor of musical arts degree from the University of Oregon who draws upon a diverse set of skills as a writer, speaker, and creative artist while advocating for animals. You can learn more about her by visiting her website: VegansMakeADifference.com.