Victoria Moran's Main Street Vegan Academy empowers vegan students of all ages, including baby boomers. The school has 550 graduates from six continents, and they're inspiring hundreds of people to go vegan as well as sparing many thousands of animals a year lives of misery and painful deaths.
Since Main Street Vegan Academy was launched in 2012, it has provided invaluable training that graduates can use in different ways. Many of them begin coaching and consulting businesses, while others run vegan or plant-based companies, shops, and restaurants. Some graduates have gone on to write books, start podcasts, or use their training to enhance their profession in health care, nutrition, fitness, or yoga.
Main Street Vegan Academy is dedicated to exceptional plant-based training, vegan education, and supporting graduates in their compassionate goals. Get helpful tips on going vegan and spreading compassion for animals during the upcoming winter session, taking place on January 29 and 30 and on February 5, 6, 19, 20, and 26. For a 20% discount for this session, please use this code: PETA20 (caps required).
We're thrilled to introduce you to five of Main Street Vegan Academy's successful graduates over 50 who are saving animals every day:
Cris Comer (Atlanta, Georgia)
Cris Comer is a renowned leader in Atlanta's vegan community. She's an event planner and host, a lifestyle coach, a burgeoning activist, and a soon-to-be author. She has a knack for pulling people together, and her brainchild Vegan Social Clubs (VSC) have hosted parties, potlucks, fundraisers, and an annual Thanksgiving dinner. In 2019, thanks to VSC, more than 130 compassionate people shared a cruelty-free Day of Thanks. With a strong desire to give back locally, VSC has applied for a grant with the city of Atlanta to expand its education efforts and create a community garden in the historic neighborhood of Collier Heights. VSC is also broadening its focus to include those who may not be ready to go vegan just yet, and it works with Atlanta Public Schools to inform middle and high school students and their families about the benefits of vegan living. Cris completed her Vegan Lifestyle Coach and Educator certification through Main Street Vegan Academy in June 2018 and holds a plant-based nutrition certification through Cornell University. You can join VSC through Facebook or Meetup and follow the group on Instagram.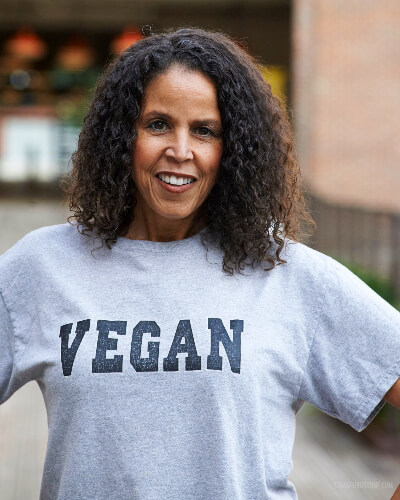 Michaela Grob (New York, New York)
Michaela Grob is the founder and owner of Riverdel, a dairy-free artisan cheese shop. Since opening in 2015, it has retained elements of a traditional cheese store, with local and international wedges that are cut to order. With the rising demand for dairy-free cheeses, Michaela keeps busy, encouraging everyone to try them. She was a student at Main Street Vegan Academy in 2015.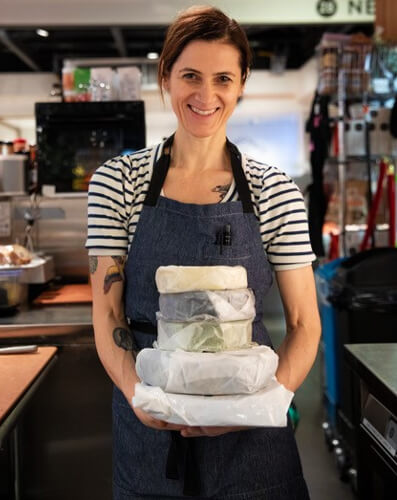 JL Fields (Colorado Springs, Colorado)
JL Fields is a vegan chef, health and wellness coach, career coach, and chef consultant to food, health, and wellness brands. She is the founder and culinary director of the Colorado Springs Vegan Cooking Academy and a Master Vegan Lifestyle Coach and Educator. She is also the author of several cookbooks: The Complete Plant-Based Diet, Vegan Baking for Beginners, Fast & Easy Vegan Cookbook, Vegan Meal Prep, The Vegan Air Fryer, and Vegan Pressure Cooking. In addition, she is a coauthor of The Main Street Vegan Academy Cookbook with Victoria Moran and Vegan for Her with Virginia Messina. JL is also a food and beverage freelance writer for newspapers, magazines, and online media. She produces vegan dining events, including the annual vegan restaurant week in Colorado Springs, where she lives with her husband, Dave, and their rescued cat, Oliver, and rescued dog, Harry.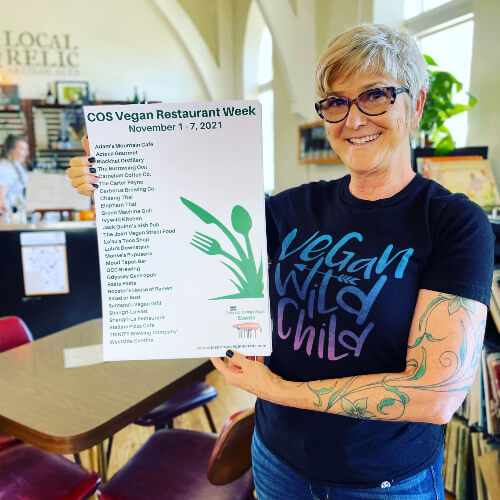 Dr. Russell Elleven (Chicago, Illinois)
Rev. Dr. Russell Elleven is a Unitarian Universalist minister and a 2013 Main Street Vegan Academy graduate. He was born and raised in a small town in Texas but now lives in Chicago with his spouse of 30 years and a cat named Maisy. He went vegan in 2007 after many years of being a vegetarian. Russell is a two-time cancer survivor. He had bone cancer at the age of 13, which necessitated the amputation of his left arm, and colorectal cancer at 39. Today, the 56-year-old serves as chaplain to the Unitarian Universalist Animal Ministry, where he combines his love for helping both humans and other animals. He hosts a free pet loss support group via Zoom on the first Wednesday of each month and offers one-on-one support sessions for those grieving the loss of their animal companions. You can reach Russell through his website or via e-mail and can follow him on Instagram.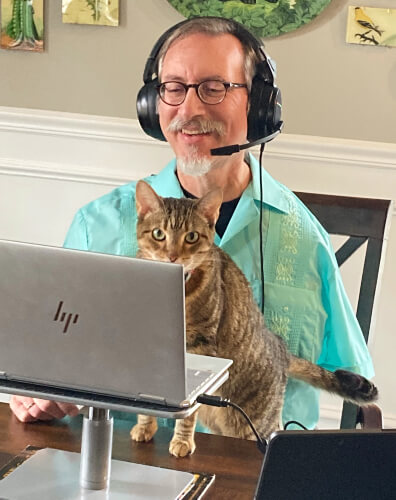 Cindy Thompson (Carnation, Washington)
Cindy Thompson of Trimazing! Health & Lifestyle Coaching provides health coaching and education, helping individuals and groups meet their health and wellness goals so that they can become trimazing: three times better than amazing! In addition to coaching, she offers cooking classes, both in person and online, including Physicians Committee for Responsible Medicine's Food for Life programs. She's also a motivational speaker, sharing her transition from a tired, unhealthy fire captain to a triathlete—thanks to vegan nutrition. Learn more about Cindy here.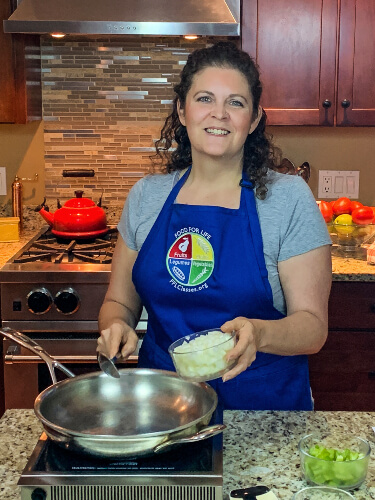 Have these graduates inspired you? Save nearly 200 animals each year by going vegan! Order a FREE vegan starter kit for a friend or yourself today.
*****
Victoria Moran, the founder of Main Street Vegan Academy, is a longtime vegan, PETA supporter, and host of the Main Street Vegan podcast. In 2016, she was voted PETA's Sexiest Vegan Over 50. She created Main Street Vegan Academy to ignite the unique gifts within each student that can transform the future, designing powerful courses packed with real-world information from brilliant presenters.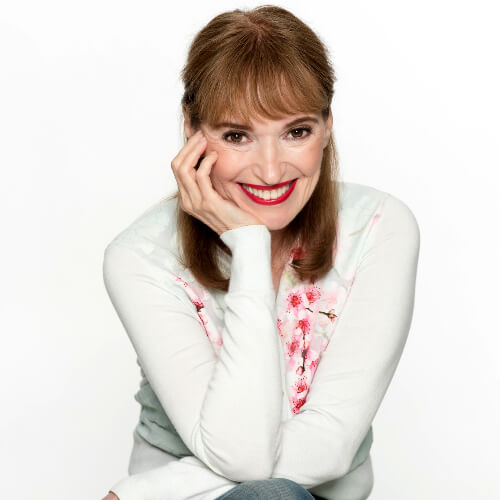 The academy grants a Vegan Lifestyle Coach and Educator certification, indicating that graduates are experts in vegan living. Classes are offered via Zoom over seven weekend days. After graduation, alums stay in touch through a private Facebook group, reunion calls, and optional continuing education. Click here to learn more.