A Trio of New Vegan Dessert Cookbooks for the Holidays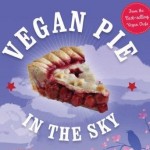 Just in time for this baking-binge and gift-gorging holiday season, there are three new and noteworthy vegan dessert cookbooks available. How compassionately sweet it is, indeed!
First up is Vegan Pie in the Sky: 75 Out-of-This-World Recipes for Pies, Tarts, Cobblers, and More by Isa Chandra Moskowitz and Terry Hope Romero. This is the same dynamic duo who gave us two other (what I'd consider now classic) vegan dessert cookbooks: Vegan Cookies Invade Your Cookie Jar and Vegan Cupcakes Take Over the World. This 223-page book has a lot baked into it, including many helpful hints (called "Slices"), taste-tempting photographs, a pie primer introduction, and a generous dollop of humor. As Isa and Terry note in the book, the recipes are wide-ranging and include just about any dessert that does not fall into the cookie or cupcake category.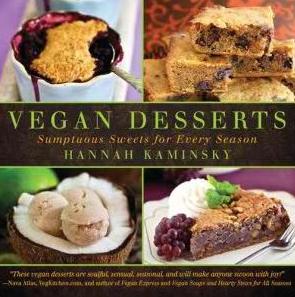 Next is Vegan Desserts: Sumptuous Sweets for Every Season by Hannah Kaminsky. My Sweet Vegan was Hannah's first book, and the combination of her talents as a baker, writer, and photographer are all in evidence in Vegan Desserts as well. This beautiful hardback combines intriguing recipes with fantastic photos to create a feast for the senses. The recipes are divided into seasonal categories, starting with spring, and a very informative introduction covers ingredients, tools, and troubleshooting. When it comes to unusual and unique dessert recipes, this book takes the cake!
And last but not least is Sinfully Vegan: More Than 160 Decadent Desserts to Satisfy Every Sweet Tooth by Lois Dieterly. This book is a 306-page revised, updated, and expanded edition of her 2003 Sinfully Vegan and, like the latter, offers an extensive array of cheesecake and Boston cream pie recipes. The introduction is extensive and includes a great deal of information on nutrition, and as a bonus, each recipe has per-serving nutritional information. To help readers decide which recipes to try first, Lois has marked her favorites with a double-heart symbol.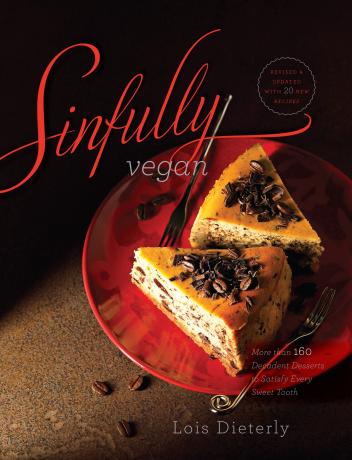 The 2003 edition was my first vegan dessert cookbook—and for several years, the only one. In preparing this post, I discovered that Lois lives only a few dozen miles from me! Both of us are in the heart of what's known as the Pennsylvania Dutch Country, with its rich German-influenced culture, and that's reflected in some of the recipes (such as Funny Cake and Fasnachts). By the way, her buttercream frosting recipes are the best—and with half the fat of most other recipes.
You can buy these cookbooks and support PETA's work for animals at the same time by making your purchase through the Barnes & Noble link at the PETA Mall.
Any of these books—or better yet, all three—would be wonderful holiday gifts for that special vegan baker in your life. If that person is you, go ahead and indulge. Before you know it, you'll be three sweets to the wind!
Season's eatings!