Educating the World With My Animal Rights T-Shirts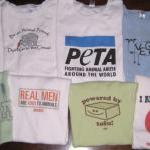 I was shopping the other day when someone came up and asked me if I was vegetarian. How did they know to ask? I was wearing my "Powered by Tofu" T-shirt. I have several tees with animal-rights messages on them, and I wear them often. An animal rights (AR) message tee can help get a good discussion started.
I usually wear one to the gym when I am working out. I go in the morning, when the gym is filled with women, all trying to lose weight. I walk in, slim and trim, wearing my ?Vegan Cow? tee or my "Real Men Are Kind to Animals" tee, and the questions start: Is it hard being vegan? What do you eat? Do you get enough protein? Do you eat fish? What's wrong with dairy (the cows don't get killed!)? And on and on and on …
I always mention that I went vegan for the sake of animals, telling them about the abuse and lack of compassion for animals on factory farms and in slaughterhouses and that my good health, stamina, and slim figure are all added benefits of my vegan lifestyle. It's surprising how many people still don't know the extent of the abuse that animals raised for food experience, and by wearing my tee and getting the conversation started, I feel I have opened the door for information to be let in, and sometimes opened a heart and mind, planting the seed for that person to go vegan.
My circus tee, "Be an Animal Friend–Don't Go to the Circus" is another example of a real conversation starter, and although most people I run into agree that animal circuses should be a thing of the past, it opens the door for the conversation to go in other directions, such as the exploitation of captive animals in zoos and other shoddy roadside animal parks. Even the horrors of vivisection and laboratories can be cleverly worked into that conversation.
I have a T-shirt with a picture of a bunny rabbit with the words "I Am Not a Toy." I can't tell you how many people come up to me and mentioned that they used to have rabbits. Their rabbits, nine times out of 10, lived in a small cage in the backyard their entire lives. This is an opportunity to tell them that rabbits have sweet personalities, are easily litterbox trained, and love to be around people and other animals, so bring them into the house and turn that backyard bunny into a house bunny. This can lead to talking about adopting rabbits rather than buying from pet stores, which can lead to discussing the problem with puppy mills and dog breeders and the animal companion overpopulation crisis, which can lead to a conversation about spaying and neutering.
A simple thing like wearing a T-shirt with an animal rights message can have a huge impact, especially if you are willing to engage in educational and informative, yet casual, conversations with people you know or maybe don't know at all. Being vegan is my lifestyle, and wearing my AR tees is a part of my fashion statement. By wearing your message T-shirts, you are providing a billboard for people to notice. And trust me, they notice.
You can buy your AR tees direct from the PETA Catalog and get your own discussions started!