Victory: Lufthansa Stops Shipping Dogs and Cats to Laboratories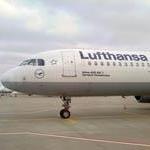 Wow, that was fast! Less than a day after PETA released heartbreaking photos and posted an action alert on our Web site drawing attention to the plight of more than 50 dogs who were transported on a Lufthansa cargo plane from the U.S. to a notorious Charles River Laboratories animal testing facility in Scotland, Lufthansa has announced a new policy prohibiting the transport of dogs and cats to laboratories. To everyone who responded to our call to action, thank you!
It's a great first step and an important victory for cats and dogs. We're delighted that Lufthansa acted so speedily. But all animals suffer in laboratories, so here comes Part Two: Let's get Lufthansa to extend its new policy to cover all species.
Click here to thank Lufthansa for protecting dogs and cats and urge it to do more!
This post was originally published on The PETA Files.