PETA Germany has been on the ground in Ukraine since soon after the war began, working with its partners to transport more than 1,300 animals to safety and delivering over 400 tons of supplies to feed more than 100,000 cats, dogs, horses, and donkeys across the country. Most recently, the teams have been working near the Ukraine border in Hungary to help animal shelters build the necessary infrastructure to provide temporary accommodations for up to 300 animals at a time.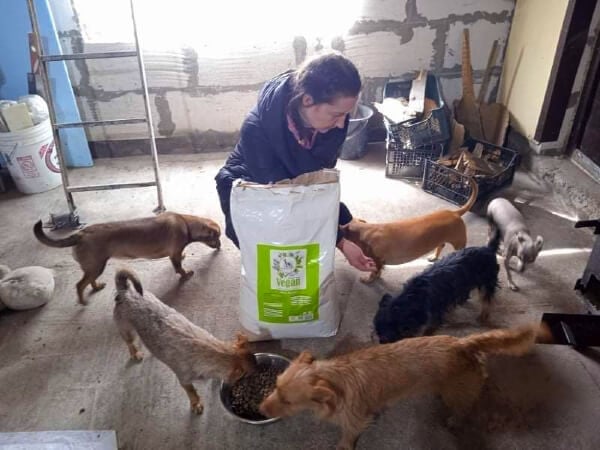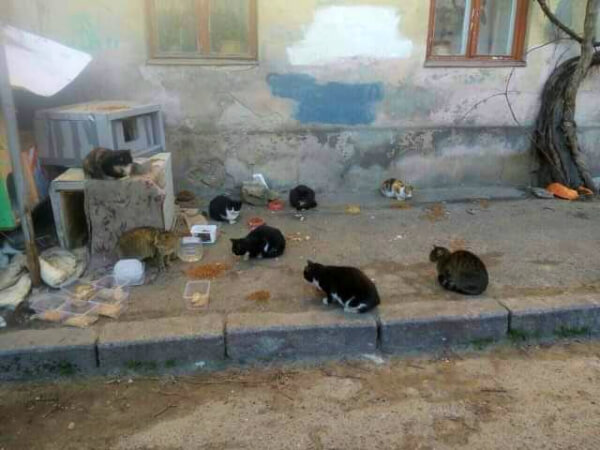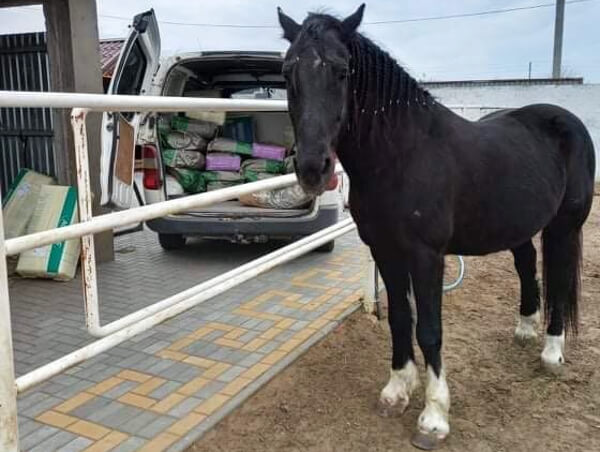 In late March, Woodstock Farm Sanctuary Director Hervé Breuil traveled from New York state to meet PETA Germany's team at the Ukrainian border in Poland. In May, the sanctuary's shelter assistant Brendan Lynch followed suit and spent two weeks in Hungary, helping animals and their guardians cross the border to safety.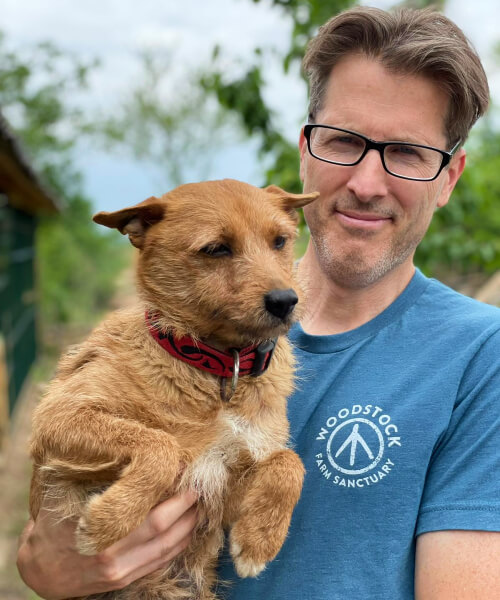 PETA Prime spoke with Brendan about his eventful trip and the memorable humans and other animals he encountered. Don't miss his firsthand account below.
---
What is your role at Woodstock Farm Sanctuary in New York, and what inspired you to join PETA Germany in war-torn Ukraine to help animals?
I have worked at Woodstock Farm Sanctuary for two and a half years and was an intern there in 2017. I work closely with the caregivers and interns on the Shelter Team as a shelter assistant.
My supervisor, Hervé Breuil, inspired me to join PETA Germany, as he went over to help them in March.
Please tell us about your trip. How long were you there? We know there are several teams with waves of rescuers. Whom were you working with, and where were you mostly working?
I was in Hungary for two weeks working with members of PETA Germany and Notpfote Animal Rescue—which is also based in Germany and receives much-needed financial resources from the generous supporters of PETA's Global Compassion Fund. They are building new kennels in many shelters across Hungary and Ukraine to house rescued animals temporarily before they are transported to Germany. I joined two volunteers from Notpfote at one of the shelters for a week in a town called Sárospatak. The shelter managers are very nice, and their organizations are extremely understaffed and struggling to provide dogs with basic necessities. Notpfote has stepped in to build better kennels—which the shelter will have for many years—and is looking to get more staff for the shelter as well. I went into Ukraine three times to a shelter called Bundás Második Esély. This shelter is run by two women—Alexandra and Anjelica—and has been instrumental in housing dogs and cats before they go to shelters in Hungary. I saw the new kennels being built, and they are very nice.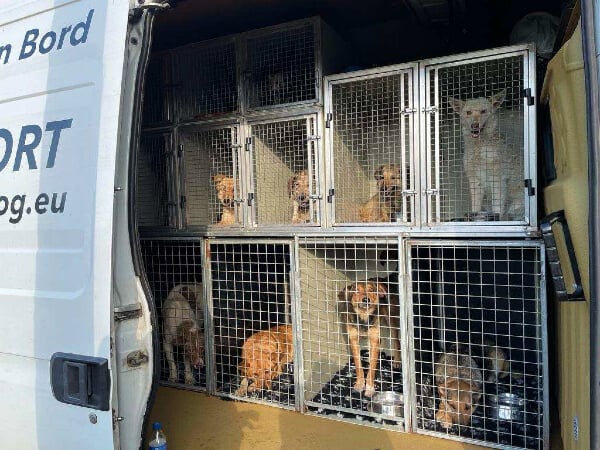 Did you encounter any challenges while bringing animals across the border from Ukraine into Hungary?
Hungary has set a strict policy that only five animals per person are allowed when crossing the border. We had no issues going into Ukraine, and Passport and Customs Control processed us quickly. The officials were nice but made sure we didn't exceed the five animal per person policy. Crossing with animals into Hungary took longer, especially with the slower pace of the Hungarian passport and customs officers. My first trip was with Judith from PETA Germany on May 5, and together, we brought nine cats into Hungary. I later crossed again with the founders of Notpfote Animal Rescue and animal transporter Timm on May 14. Timm does a lot of the transporting of dogs from Ukraine to Hungary and from Hungary to Germany. He can speak four languages fluently and does a great job communicating with officials. We brought a lot of food and only took around nine dogs with us, because the shelters in Hungary were full. That was a long day, as we had to travel a great distance. We started at 6:30 a.m. and ended at 1 a.m. the following day!
What was the most memorable experience you had while in Ukraine? Is there anyone you met or rescued whom you will never forget?
I met two amazing dogs who were left in a backyard by their guardians in Hungary. A woman from a nearby shelter alerted Judith to the situation, as she didn't have room in her shelter. So for a week, I checked up on the dogs—whom we named Lucy and Lola. They were puppies, and I looked forward to feeding and playing with them each day. One morning, I noticed their gate was open, and I knew that nearby neighbors didn't have the dogs' best interests in mind. Timm and his wife, Vicky, took the dogs in to foster them, and I was so appreciative, because I didn't know what would become of the dogs I had come to love so much.
I also won't forget meeting Dasha during my second trip to the Ukraine shelter. She is a young woman who traveled from Kiev, which is around an eight-hour drive one way. Dasha had just gotten married a couple of days before and was late arriving at the shelter because she had trouble finding gas and wasn't sure where she would find some on her way back. She helps transport animals and food from the Kiev shelters to Bundás Második Esély in Ukraine. Dasha didn't seem distressed at all but rather seemed accustomed to her new normal, which is always changing. Since I met Dasha, I always think about what life is like for her, as she is the only Ukrainian I have met who is living in a part of Ukraine that is heavily affected by the war. She is risking her own life to see the animals get to safety.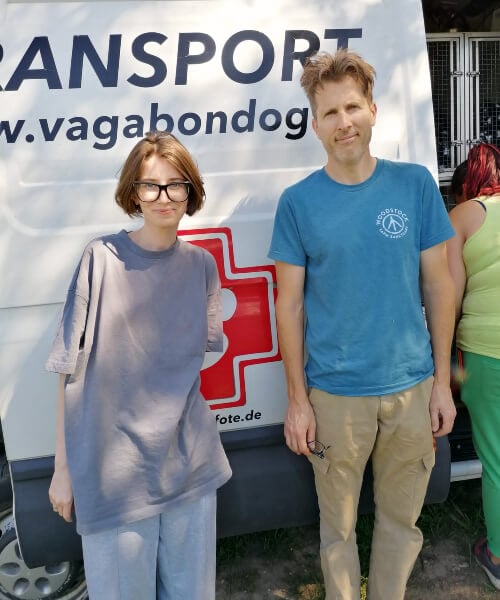 On the way back to Hungary, there are three gas stations inside the Ukrainian border, and only one station had gas! When I went back with Judith, all of the stations were out. It's crazy to think that even the areas farthest from the war are unable to get gas. When Judith and I realized that the women at Bundás Második Esély weren't able to find gas anywhere, we brought them 30 liters—which we didn't mention to the passport or customs officers, because we didn't know how they would react.
Now that you are back in the States, do you have plans to return to Ukraine?
I would like to return in August to see the completion of the kennels at the shelters in Hungary and Ukraine, and I would like to help transport animals across the border again. I want to add that it was a pleasure and a privilege to work with Judith Pein from PETA Germany, Babette and Tom Terveer from Notpfote Animal Rescue, and Timm Riggert. These people are dedicated to helping Ukraine's animals. Please donate to these organizations and spread the word, as they are on the front lines delivering food and gas as well as transporting animals to safety.
*****
Click here to learn more about the trip of Brendan's director, Hervé Breuil. Also, check PETA U.S.' blog regularly for updates about Ukraine—and please make an urgently needed gift to PETA's Global Compassion Fund to help keep this and other lifesaving work for animals going strong.