My late husband, Greg, and I began supporting animal advocacy organizations in the 1990s, shortly after we married, and initially PETA was one of many on our list. But as we learned more about the issues and the work that PETA does, it became clear to us that PETA does more to help more animals than any other group, and we decided to direct our primary support toward PETA.
As soon as we made our first significant donation—even though it wasn't that significant—we received many thank-you messages from core members of the PETA team, who made us feel like family. That's when we realized that PETA staffers not only do the most effective work for animals but also are really nice.
At the same time that we began making significant donations, we also began participating in quite a few PETA activities, and I don't think it would be an exaggeration to say that PETA has been involved in all the highlights of my life over the last five years or so.
In 2012, Greg and I transitioned from city to country life, buying 21 acres in Middleburg, Virginia, which is about an hour west of Washington, D.C. We weren't quite sure what we were going to do with the land, but just as we were preparing to buy it, I had occasion to chat with Ingrid Newkirk at a fundraising event, after which she sent me a personal note thanking me for my donation, along with this suggestion: "If you get that land, I do think the smartest, best way to preserve the largest number of animals is to think wildlife; they have almost nowhere to go anymore." Inspired by Ingrid, within a year, we had a local organization certify our place as a wildlife sanctuary.
In 2013, we "graduated" from "regular" Vanguard Society members to members of PETA's Leadership Council as well.
That summer, we adopted Itchy, a very special PETA rescue dog and longtime client of PETA's Community Animal Project, whose owner had finally surrendered him to PETA's care after he'd developed heartworm disease. Initially, Itchy had been given no more than a year to live, but working with our local vet over many months, we succeeded in curing him, and he is still alive and well today.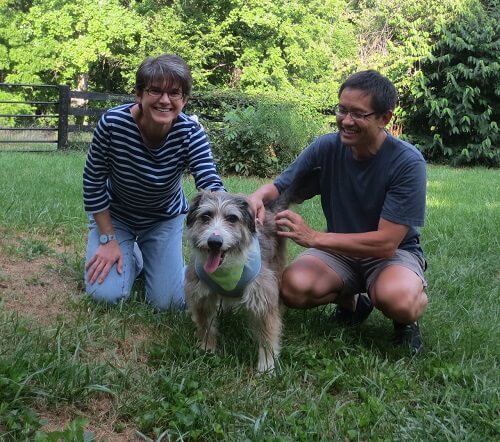 Then in the spring of 2014, we "graduated" yet again—to adopting two horses whom PETA had rescued from abandonment and starvation, one of whom turned out to have been a former racehorse who had earned more than $100K during his career. Our country place had come with a nice horse stable, but we had virtually no experience with horses and had decided that we weren't going to use it for horses. Then, one day, we received this e-mail from Ingrid:
Dear Alysoun and Greg,
I hope you are all well …. You know that I will never hesitate to feel out the prospects for additions to your family, and I must ask you if two horse friends … we just rescued from starvation are a forever possibility. They are vegetarians, of course, and birds and deer all love and feel safe around horses! Just a thought, in case you are up for this. Otherwise, forgive me. I have to try, as finding good homes for horses is tough.
With my best, as always,
Ingrid
Although I initially feared this would be too steep a learning curve for us, Greg was convinced it was the right thing for us to do—so we said yes, and we spent two months learning everything we could. Greg purchased and learned to drive a horse trailer, and he learned all about pasture management. Together we read books and took online classes about horse care. We hired consultants and solicited advice from everyone we knew who had horse experience. We brought Henry and Caroline home in June 2014, and after about nine months, we succeeded in getting them past their various health and behavior issues. Sometimes I still can't believe that I have horses! But I have to say that I really enjoy the routine I have with them.
My husband died unexpectedly late last year, and everyone at PETA was so supportive. That sense of family I mentioned earlier really showed in this difficult time.
Of course, this event created a need for me to rewrite my estate planning documents, and I just completed that process at the beginning of this year. My two main goals were to make PETA my primary beneficiary and to ensure the lifetime care of my companion animals—currently, horses Henry and Caroline and dog Itchy, as well as one other dog and five cats who came from other rescue organizations. Greg and I previously had a trust that called for a relative to care for the animals if something should happen to both of us, but it became clear that I couldn't be confident that relatives would actually do this. So I worked with PETA and with each of the rescue organizations my animals had come from. I also specified a percentage of my estate assets that will go to each of these organizations, with PETA designated to receive a majority of the total. I urge everyone to e-mail PETA at [email protected] to request a Companion Animal Planning Packet. Our animals depend on us entirely, so it's crucial to make plans now for their future care.
Alysoun Mahoney is a longtime PETA member who speaks for animals through her advocacy and through her support as a member of PETA's Vanguard Society and Augustus Club.