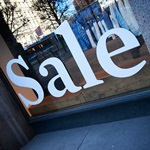 Everyone likes to save money. But some of us really like to save money. We don't view a trip to the grocery store as a chore—we view it as an odyssey. We hear the Mission: Impossible theme music playing in our heads as we stealthily dart down the aisles, wielding our weapon of choice—a shopping cart—and daring any overpriced item to try to infiltrate it.
There's no reason why someone couldn't be a proud penny-pincher and a vegan.
The two go together like peanut butter and jelly. Rice, dry pasta, beans, and nuts are some of the cheapest foods that you can buy, and their shelf life is … well, it seems as if the little ink label should just say, "forever." Other vegan staples, such as breads, oatmeal, cereal, produce (canned, frozen, or fresh), and most spices and condiments are pretty inexpensive, too. You can even use coupons for a lot of them, and anyone who has ever scored an item for next-to-nothing knows that it gives you a thrill like no glass of vino ever could.
The plethora of great-tasting faux meats and cheeses and nondairy milks are comparable in price to their animal-product counterparts, but they could save you a ton of money in the long run in healthcare costs. Vegans enjoy significantly lower rates of many of the U.S.' most prevalent diseases, such as cancer, strokes, diabetes, obesity, and heart problems. (And for us grocery-store caped crusaders who like to put exact dollar amounts on our savings, companies like Morningstar Farms and Rice Dream always put out great coupons.)
But being a thrifty vegan doesn't mean having to cook at home every night (even caped crusaders have their days). More and more super-cheap fast-food restaurants are catering to vegan tastes, with options that are much healthier than the typical fast-food fare.
Burger King offers a veggie burger (just be sure to hold the mayo), and Subway's menu includes the Veggie Delite sub and Veggie Delite salad with sides of apples and chips. Tim Horton's has three vegan soups—Hearty Vegetable, Minestrone, and Tomato With Whole Grain Pasta—to pair with several breads. Moe's and Chipotle are both happy to let you build your own Mexican favorites with animal-friendly ingredients. Even bargain-priced Taco Bell has a plethora of choices that can easily be made vegan by leaving off one or two ingredients, including the 7-Layer Burrito, Black Bean Burrito, Veggie Cantina Bowl, Crispy Potato Soft Taco, and Fresco Bean Burrito. And the very reasonable Mellow Mushroom offers pizza with Daiya vegan cheese and a huge selection of veggie options.
And on those special occasions when we cheapskates put away our calculators and treat our loved ones to an elegant meal out, we're still saving money: Restaurants are offering more and more vegan entrées, and they're practically always less expensive than the meat-based dishes.
So, being cheap doesn't mean that our taste buds or our health get short shrift. After all, we have to be well-fueled for our next mission.