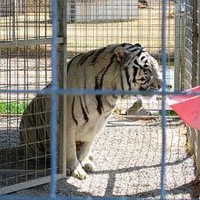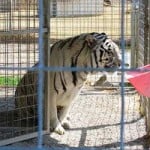 The U.S. federal government and all 50 states have laws to protect animals from abuse. But who watches the watchers? That would be the PETA Foundation's Captive Animal Law Enforcement (CALE) division. CALE is a specialized group of highly trained attorneys, wildlife specialists, veterinarians, and support staff that pushes federal, state, and local law-enforcement agencies to take action when exhibitors that use animals in entertainment venues, such as circuses and zoos, are in violation of the law. When authorities shrug and hope an issue will go away, CALE demands that action be taken.
The scope and scale of CALE's work is impressive: The division maintains files on more than 1,000 zoos, circuses, marine parks, and other wild-animal exhibitors—and actively monitors several hundred of them. On any given week, CALE may ask authorities to seize crippled elephants, file a lawsuit in behalf of orcas confined to concrete tanks, or object to trophy hunters who want to import the dead bodies of endangered animals.
CALE contacts local animal-control agencies, which are often underfunded, understaffed, and ill-equipped to ensure real protection for animals used in traveling shows. CALE provides these agencies with free guides that are specifically designed to help with inspecting elephants and a pocket guide with photos to identify unique issues that these animals have. There's also a specialized tiger-inspection guide to help law-enforcement officers recognize when big cats are suffering and laws are being violated. Staff always stands ready to work with local officials in order to ensure that laws are enforced and to notify federal authorities and the media so that the public becomes aware of the situation.
Another proactive tactic that CALE uses is filing objections with the regulatory agencies responsible for granting licenses and permits. When animal breeders want to buy and sell endangered animals, for example, they must first apply for a permit from the U.S. Fish & Wildlife Service (FWS). Permits are issued only when applicants can prove that their actions will help endangered species—but most roadside zoos do nothing of the kind. When baby animals are taken from their mothers and used for photo sessions, for example, these exhibitors rake in money but do nothing to help imperiled wild populations.
CALE has filed objections to applications made by outfits such as Animals of Montana, whose owner, Troy Hyde, had been convicted of illegally trafficking tigers. And after CALE tipped off the FWS, the agency recently denied a permit application from T.I.G.E.R.S., a roadside zoo that wanted to export and then re-import 18 endangered tigers to and from Cancún, Mexico, for a movie production.
Mind you, many of these applications are public record now only because we had previously filed a lawsuit against the FWS for keeping the records private. Our efforts resulted in public disclosure, so now CALE can intervene.
This is just the tip of the iceberg of what this important division handles, and your support makes it possible.
To support CALE and all of PETA's life-saving work for captive animals, visit peta.org/entertainment.