By Dr. Joel Kahn, 2016's Sexiest Vegan Over 50
At the beginning of 2016, I made a list of career goals to reach by the end of the year. I'll admit that being named "Sexiest Male Vegan Over 50," or even putting my name up for consideration, wasn't on that list. But I'm so glad that I entered the contest, and I'm still flabbergasted that I won—and I want you to enter the 2017 contest when entry opens on August 14.
I believe the main reason that I gained the judges' and voters' notice wasn't that I'm a beefcake. (I haven't eaten beef in over 40 years, so that's very unlikely.) While it's true that having followed a plant-based diet for four decades has been a huge benefit to my health, and possibly my appearance, the recognition was more likely for the work that I do in protesting against universities—including the one where I work as a professor—that needlessly maim and destroy beagles and other sentient beings in experiments. I believe it was my "inner beauty" that made me stand out, and I'm sure you, too, have that if you're reading this.
After winning the contest, I made a trip to Los Angeles to the West Coast headquarters of PETA, the Bob Barker Building. I, along with the female winner, the amazing Victoria Moran, were welcomed like royalty. We participated in a photo shoot, and meeting the young and dedicated PETA staff was inspiring. Putting on the chicken-nugget mascot outfit (from the "I Am Not a Nugget" campaign) was a hoot, and a picture of this is prominently displayed in my medical office.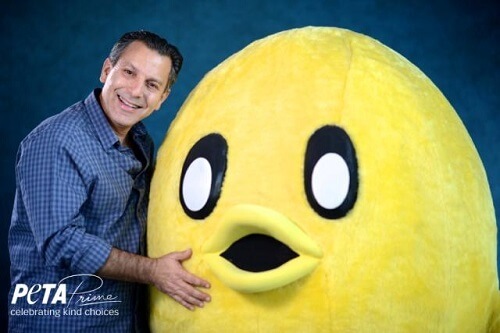 Winning the award helped inspire me to co-author a new book with another winner of PETA's "Sexy Vegan Over 50" contest, Ellen Jaffe Jones. Together, we released Vegan Sex—a number one bestseller—which wouldn't have happened if we hadn't entered this annual contest. I've given talks on being a sexy vegan and the book Vegan Sex at the National Health Association's annual meeting in Cleveland; at the Vegetarian Summerfest in Johnstown, Pennsylvania, in July; and locally, in Detroit, for the Plant Based Nutrition Support Group—all this because I filled out an entry form for the contest!
The movement to help animals needs more fresh faces that both do good and feel good. This contest could help identify the next Carrie Underwood or Miley Cyrus, and it could be you (even if you can't sing—I certainly can't!). I urge you to submit your entry on August 14. Post your sexiest, but appropriate, picture (my photo showed me shirtless with a jackhammer—a far cry from my hospital apparel), and do good deeds to fight for the ethical treatment of animals.
Dr. Joel Kahn, 2016's Sexiest Vegan Over 50, is a Clinical Professor of Medicine at Wayne State University School of Medicine and Director of Cardiac Wellness, Michigan Healthcare Professionals PC. He is a graduate Summa Cum Laude of the University of Michigan School of Medicine. He lectures widely on the cardiac benefits of vegan nutrition, mind body practices and heart attack prevention.