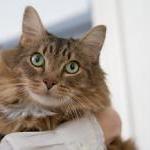 As PETA's Augustus Club members know, planning your legacy is important. But one of the most overlooked yet most important aspects of estate planning is preparing for your animal companions' future when you can no longer care for them. There are steps that you can take now to ensure that they'll continue to receive the loving care that you want them to have.
PETA's Companion Animal Planning Packet will help guide you through this process.
The packet includes a detailed booklet addressing short-term and long-term care needs, emergency contact cards and a window decal, and instruction forms for emergency caregivers, family, and friends.
The following are some of the most important planning steps, which are elaborated on in our packet:
Identify one or more trusted people who can come into your home at a moment's notice to care for and comfort your animals until their long-term care is arranged. It's important for the person to be familiar with your animals and vice versa.
Select a long-term guardian or guardians for your animals now. Choose someone who is trustworthy, capable, and willing to take complete responsibility for your animals. It's a good idea to name one or more backups, if possible.
Files on each of your animals should be maintained and kept in your home. This will help in an emergency and can be used to find the best new homes for your animals. (PETA's planning packet contains forms for all this information.)
Consult with your attorney to complete your estate plans, including providing for the future of your animal companions (e.g., through a provision in your will or a "pet trust," which is now allowed in most U.S. states).
Put a "Please save our animals" sticker in a location that's visible from outside your house, such as a window or a door, in case of an emergency. (This sticker is also included in PETA's planning packet.)
Our companion animals are an integral part of our lives, and we know that they depend on us completely. So it's crucial to incorporate these important steps into your estate planning in order to ensure the long-term well-being of your animals and also make their transition to a life without you as stress-free as possible for them.
PETA's Augustus Club is a complimentary club honoring those who are leaving a legacy for animals through a planned gift to PETA. There are no fees or charges, and members receive quarterly newsletters containing special features on PETA's history, PETA's impact on animal-abusing industries, and profiles of members and animals they've saved. Augustus Club members also receive invitations to special events throughout the year. Augustus' noble image, dignity, and innocence make him a fitting symbol of the plight of all animals who have endured—and are still enduring—callous and horrible treatment at the hands of humans.
If you have made a planned gift to PETA, please let us know so that we can thank you! If you have not yet left a legacy for animals but would like information on how to do so, please contact us.