Please enjoy this article from the latest issue of our magazine, PETA Global. To begin your subscription, become a PETA member today!
Become a PETA Member!
---
As a little girl, she sent PETA quarters. Today, she's a powerhouse for animal rights and PETA's honorary director.
She's also one of the most recognizable people in the world.
And wherever her work takes her, from the Vienna Opera House (where she protested fur) to Vladivostok (where she helped persuade Russia's president, Vladimir Putin, to free captive orcas), Pamela Anderson asks PETA what she can do there to advocate for animals.
The Animals' Lifeguard
When asked to host a large international music festival in Finland, Pamela made sure that as she landed, her letter to the country's president was released to the media, calling on him to stop 5 million foxes a year from being killed on Finnish fur farms. When Comedy Central asked if it could "roast" her, she agreed to an evening of jokes at her own expense on one condition: The station had to donate to PETA and air its ads during the special. It did.
When she left the Big Brother house in Australia, knowing that reporters were following, she raced to KFC to hold a demonstration. "I'm known for posing for PETA, but I'm really energized by public speaking," she remembers. "Everyone should learn how to use their voice for animals."
She launched her Alfred Hitchcock–inspired vegan ad on The Ellen DeGeneres Show to discuss the negative environmental consequences of the meat and dairy industries. And when she appeared on The View, she called out Colgate-Palmolive for its experiments on animals. The CEO's wife saw the segment and talked to her husband about it, and a week later, he was flying to PETA's headquarters to discuss ending animal tests by his company.
Pamela has always been keenly aware of reporters' preoccupation with everything she does and the platform that gives her. She said as much when she first reached out to PETA in 1997, not through a publicist or manager but in a sweet letter handwritten on lilac stationery.
Pamela and her famed vegetarian figure soon were gracing PETA's first-ever Times Square billboard, urging New Yorkers to "Give Fur the Cold Shoulder." She unveiled it on the Late Show With David Letterman and parlayed her Baywatch fame into a veritable media junket, flying all over the country to promote PETA's ad, even though she was six months pregnant at the time. We knew then that the soft-spoken Canadian with the lilac stationery was a force to be reckoned with.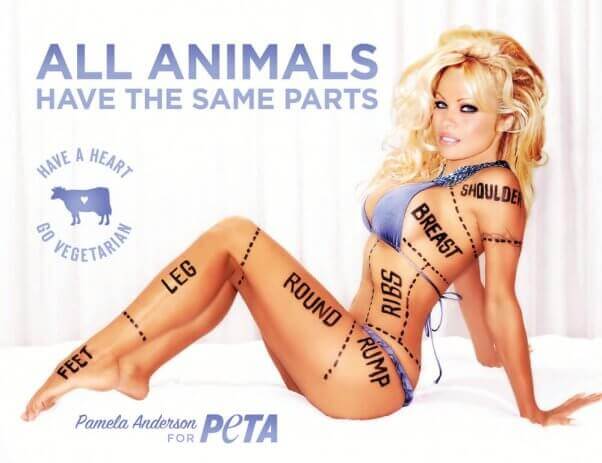 For more than two decades, animals have been able to count on Pamela to help evacuate them during natural disasters, spend "an incredibly meaningful Thanksgiving" serving vegan meals to homeless people, or turn down modeling offers from companies that aren't cruelty-free. One of the most recent notches in her belt: Prada committed to no longer using fur in its collections after Pamela wrote to the design house on PETA's behalf. Since childhood, she's never stopped offering to do more.
Take Action Now
Like Pamela, seize every opportunity to help animals, from distributing leaflets and writing letters to cruel companies to organizing protests. Join PETA's Action Team at PETA.org/Action.
JOIN PETA'S ACTION TEAM