This post has been adapted from a speech given by PETA member Maru Vigo at a recent PETA event.
*****
After I finished college in 1985, I heard about a group in the United States called PETA. At the time, I had been working with an animal-welfare group in Lima, Peru, that mainly works on companion-animal and anti-bullfighting issues. But one day the following year, I found a copy of PETA News, and my life totally changed.
In 1987, I moved from Peru to Tucson, Arizona, to be trained at the former Arizona chapter of PETA, and that was when my involvement with and total commitment to PETA and animals started.
We animal advocates wear many hats because we collaborate with numerous organizations on several different topics. That's certainly been my experience. But although there is much fine work being done by other groups, in my heart and mind, I am biased toward PETA because we are always ready to fight for animals in a direct, intelligent, brave, and consistent way. PETA always has the animals' best interests in mind. The total liberation of all animals is our mission, and even when others forget that, we do not stray from our objective just to please them.
PETA has always been there for me, ready to help in every single project. At the local level, PETA helped me to educate hundreds of students with the support of TeachKind and its materials. Our public school system, with few exceptions, still promotes the exploitation of animals by sending students on fieldtrips to SeaWorld, feeding them unhealthy meats, and forcing them to dissect animals in biology classes. But PETA is constantly making inroads to open my students' eyes to the suffering that animals endure, and has released a new version of its Share the World humane-education curriculum kit that's being directed to 9 million elementary school children this coming fall. Share the World is based on the Golden Rule: Treat others as you would have them treat you.
Internationally, PETA's support has been equally wonderful. Two years ago, PETA and a group of activists from both the United States and Peru helped me organize a spay/neuter campaign in an economically deprived area outside Lima that subsequently saved the lives of countless animals. After that, we coordinated the donation of an interactive-software program to stop the cruel dissection of frogs at the College of Psychology of Universidad Nacional Mayor de San Marcos, the oldest university on the American continent. And last December, we organized informational tables at all our friend Morrissey's South American concerts.
Everyone here has probably received texts, e-mails, or messages with blessings of all sorts, including words of encouragement and congratulations. It's certainly nice to receive them, but we must invite everyone to act. We must discover the talents of every person willing to work for animals and encourage all levels and kinds of direct action. Every single action matters, no matter how big or small.
One such important action is to think about what happens to animals when we're gone. I'm sure that all of you will work for animals until the last second of your lives, but our commitment must go even further. PETA is a beneficiary in my will, and I encourage you to include PETA in your will as well, because this work cannot stop.
Above all, we must keep educating others, because education means power and liberation for animals. We must educate by example and dispel the myths that keep us misinformed: Responsible breeders do not exist. "Humane meat" does not exist. And no cruel traditions against animals are worth continuing in the name of preserving a sense of culture.
I am fully aware that our work as activists is bittersweet. We celebrate huge successes only to have to deal with new unthinkable cruelty seconds later. But we must persevere. Animals cannot wait any longer. PETA will win total liberation for all animals.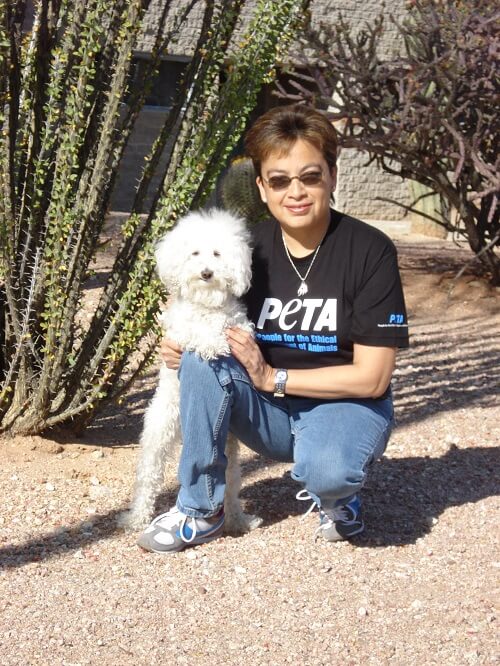 Longtime PETA member, Augustus Club member, and school teacher Maru Vigo is changing the world for animals by nurturing her students' thirst for knowledge and compassion. She does the same throughout Arizona, Mexico, and Central and South America through her leadership, activism, and her  blog, challenging the beliefs and traditions that keep animals subjugated.