She's an actress who's unadorned by any embroidery. She does everything with such simplicity and honesty, it's breathtaking."
Those are the words of Tom Fontana, executive producer of the lauded television shows Homicide: Life on the Street and Oz. He was talking about Edie Falco and her acting style and why he was fortunate to have her as a member of his casts—but Falco also takes that same straightforward approach to her work in behalf of PETA.
She's spoken out about the plight of elephants in circuses, orcas at SeaWorld, and horses dragging carriages around New York City, which is why she was a natural choice for receiving PETA's Humanitarian Award.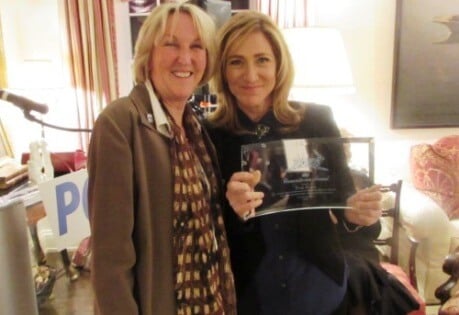 Most people may know Falco as the star of The Sopranos and Nurse Jackie, as PETA President Ingrid Newkirk pointed out when she presented the award at a recent event in New York, but she is also "a PETA person with a heart of gold for animals."
That's apparent in the video that Falco made for PETA, in which she urges families to skip any circus that uses animals. "I'm a mother," she says. "I cannot imagine having my children taken from me and forced to spend the rest of their lives away from everything that matters to them and not be able to do anything to help them."

Falco then details the cruelty that elephants endure at Ringling Bros. and Barnum & Bailey Circus—babies torn from their frantic mothers, bound, beaten with sharp bullhooks, and electro-shocked—and ends with a plea: "Never take your children to the circus. Let's teach our kids to respect and show compassion for all beings—both human and animal."
Falco also brought a mother's perspective to "I, Orca," PETA's innovative orca empathy project that has traveled to cities near every SeaWorld park. Wearing Google virtual reality goggles, participants "swim" in the ocean with an orca family and meet an orca mother, voiced by Falco, mourning the baby who was taken from her and condemned to a miserable life of captivity at SeaWorld. "They have stolen his life," she says. "He's been robbed of his family's love and all the joys of the ocean, where he belongs." (Read more about this project in the current issue of Animal Times.)
A native New Yorker, Falco appeared in a PETA ad that called on members of the New York City Council to support Mayor Bill de Blasio's proposal to retire the horses who are victimized by the city's cruel horse-drawn carriage industry. She also recorded a video in which she addresses the link between animal abuse and domestic abuse.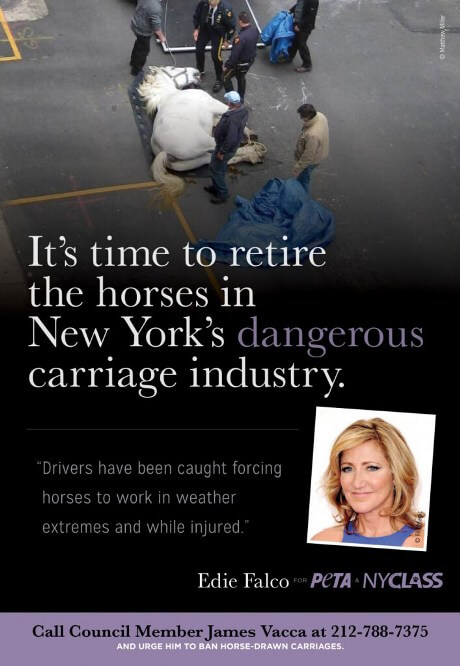 Like the characters who have made her a household name—and filled her trophy case—Falco doesn't mince words when she talks about her advocacy in behalf of animals.
"You start to realize, maybe this is part of what I'm here to do, is to help in any way that I can," she says. "And the idea that we commit such atrocities against animals—it'll be our fatal flaw as humans, I think, to not bring the situation to light and stop it."