Portland, Oregon, Day One
Before heading to Portland with my husband, David, for our summer vacation, I did a considerable amount of research to find as many vegan and vegan-friendly establishments as I could. Stumptown Vegans was an extremely helpful site for planning our vegan outings. It has extensive lists of Portland's vegan and vegan-friendly eateries, so don't leave home without it.
I also suggest going to your local AAA or bookstore and getting a map of Portland city streets. Between the map and our iPad, we were able to get around the city easily. The city is divided into four quadrants—northwest, northeast, southwest, and southeast—with the Willamette River dividing the city vertically and Burnside Street dividing it horizontally. I marked my map up before we left so that we could easily find as many of the vegan restaurants in the area as possible, and I put all the addresses in my iPad address book for easy access.
We arrived in Portland around lunchtime. Since Portland International Airport is located in the northeast part of the city, we had a perfect opportunity to try the first restaurant on our list, Blossoming Lotus. It's a cute little café with a very healthy all-vegan menu. We had huge beautiful salads and big bowls of delicious lentil bean soup.
Our next stop was Alberta Street, an artsy little area with shops and restaurants, including Back to Eden Bakery, a cute, super-cozy all-vegan bakery with a huge selection of sweet and savory treats and dairy-free ice cream. We had a miniature cake that was filled with custard and topped with a thick chocolate ganache, a lemon cream cheese cupcake, and a kale-and-tomato tart—the baked goods were delicious. David and I also checked out some of the local shops and art galleries and found several other eateries offering vegan choices. We would be back on another evening for dinner.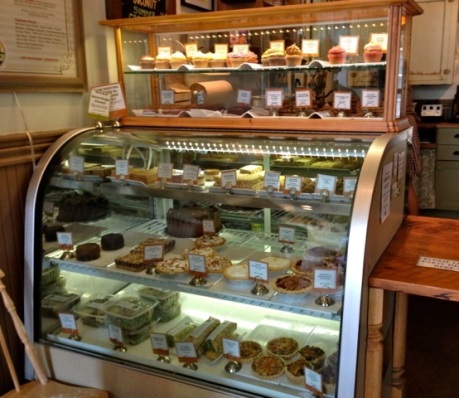 Back To Eden Bakery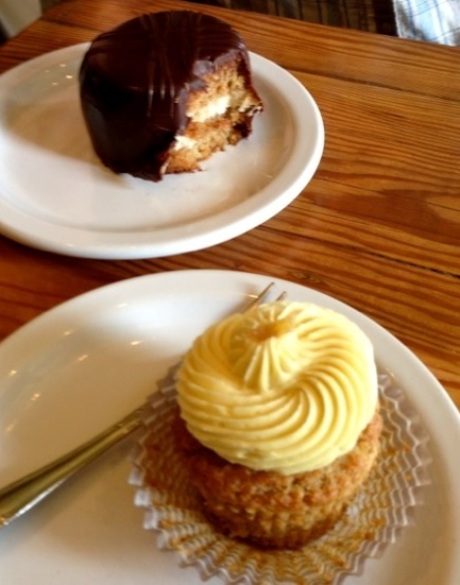 Then we headed to the southeastern side of Portland, where our B&B, the Evermore Guesthouse, was located. It's a big vegan-friendly Arts and Crafts home. Fresh vegan pastries were waiting for us in the kitchen every morning, along with soy milk for our coffee, orange juice, oatmeal, fruit, and bagels. Note: You need to let the owners know you're vegan prior to your arrival. The place is gorgeous, and the surrounding neighborhood, full of Arts and Crafts homes, along with beautiful trees and gardens, is just as nice.
After checking in and dropping off our luggage, we were ready for a cold beer. Portland is known as the craft beer capital of the world—and now we know why. Even some of the bakeries and smoothie bars sell craft beer. We headed for Sweet Hereafter, an all-vegan bar in southeastern Portland. It's definitely a local hangout and isn't touristy like some of the other brew pubs. David and I ordered some craft beer, along with a couple of the specialty vegan bowls, which were delicious, and sat on the back outdoor patio. I'm really surprised that vegan bars haven't caught on yet in more cities. The place was packed. On our next trip to Portland, we plan to check out Sweet Hereafter's sister bar, The Bye & Bye, located in the northeast quadrant.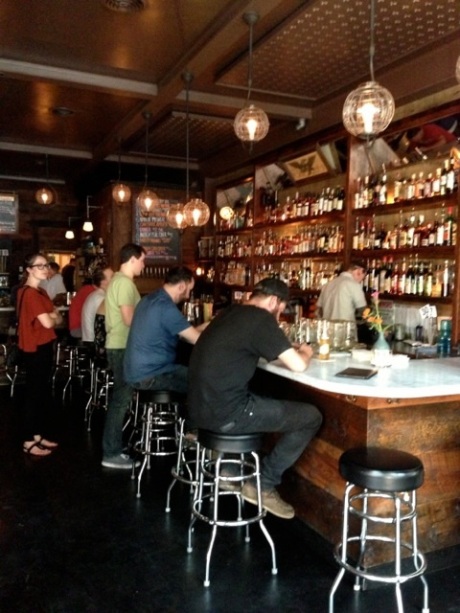 Sweet Hereafter
That was the end of our first day in Portland. We packed a lot into that day, especially since we didn't arrive until noon. Stay tuned for an account of more of our Portland adventures on the second day of our trip.