In a recent USA Today article, a business travel columnist candidly shared his experiences maintaining a vegan lifestyle on the road. He and I share a passion for dining, but while he has found that his diet change limits his gustatory pleasure on trips, mine has led to fresh, delicious new dining experiences, including farro with currants and heirloom beets, butternut pizze, porcini mushroom linguine, wakame seaweed salads, nut-buttery desserts, gourmet sorbet, uber-trendy crispy kale chips, and peppery dark chocolate! And to think people ask me, "What do you eat?"
"Too much," I answer with a smile. (Check out my photos in this article for evidence!) Before leaving on a trip, I go online to find vegan-friendly restaurants and cafés. Oh, the joy when I find all-out vegetarian and vegan places! I also take note of health-food stores, since they're usually fun to check out in other cities. My Web sources often include local vegetarian societies and Happy Cow. There are even a few excellent apps on the iPhone, including VegOut, Vegan Steven, and iVegetarian.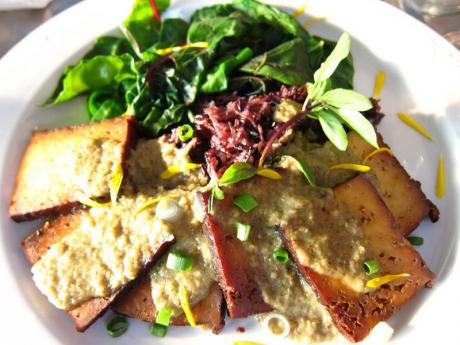 For me, being an herbivore fits with my ethics and improves my health-and also supports my highly active, athletic lifestyle. As a bike commuter, daily jogger, and hardcore hiker, I go for foods that stoke my taste buds while also fueling me with clean-burning energy. When visiting cities and towns, I usually ride a bike, allowing me to get to eateries of my choice gas- and taxi-free. The USA Today columnist, understandably, finds eating vegan on the road more costly because of the need to take cabs. He also mentions the challenge of finding vegan fare at conventions and group functions. I definitely hear him. When in such situations, I try to convey my dietary needs in advance, and most chefs are happy to whip up something vegan. But also I have tasty fall-back fare back in my room, which is a great excuse to make an early stop at a health-food market.
As the writer correctly notes, vegan choices for room service at hotels are often scarce, although I'm finding more and more hotels offering soy milk, oatmeal, and fruit plates. However, room service prices are too expensive for me, as they are for most people, which is another reason why I like finding a health-oriented market nearby or on the way from the airport.
Another tip: local farmers markets! I love not only the food but also getting the flavor of a place at its farmers market. And with increasing demand for local and sustainable foods, there are more and more farmers markets popping up all over.
Also, I'm often pleasantly surprised. On the way to a mountain hike in Virginia's Roanoke Valley, the only convenient place for an early lunch was Cousins, a bar/restaurant in a big red roadside barn in the small town of Salem. I asked the owner if he had anything vegan, ready to define the term. Well, he knew (guys at the bar turned to follow our conversation). Then he came back with a lovely salad chock full of fresh vegetables and really tasty home fries.
I'm not tempted by animal-derived fare, since I lost my taste for it long ago. Coming from a family that owned a butcher shop and a grocery store with everything sourced from nearby farms, I found meat and poultry sourced elsewhere odd in taste and texture. Later, I realized that that was because of the change in practices in raising and feeding farm animals, including the shift to unnatural diets that also include hormones and drugs. What about ice cream? Sure, I liked it, but not only were animal-free substitutes available (and so many more today), I also realized that sweet treats compromised my energy, slowed me down, and put on unneeded pounds. Plus, an unexpected bonus of a vegan diet: After cutting out animal products, my knee and wrist aches disappeared (arthritis runs in my family), and my lifelong chronic asthma subsided. No more carting around asthma inhalers while camping and traveling!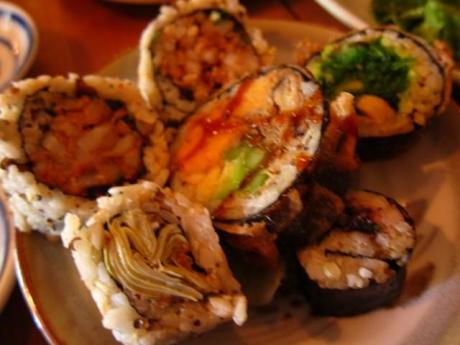 Two good animal-friendly tips that both the USA Today writer and I agree upon: Ask if a refrigerator is available at hotels, and remember to ask ahead about meals on flights! The more people request vegan choices, the more likely airlines will be to respond.
But since many airlines are not "onboard" yet, I pack adequate snacks or meals before boarding the plane. Oranges, easy-peel Clementines, tart cherries (which are good for countering jet lag), other fruits, and protein bars. But no liquids because of TSA regulations. Once I was forced to toss my delicious container of oatmeal with raisins and agave! And if you want to use sky time to sleep, then skip the coffee, tea, and even dairy-free chocolate!
Have any tips for herbivores dining away from home?