Ready for some great stories? Part of what makes PETA a household name is our headline-grabbing, thought-provoking public displays. While our demonstrations normally go off without a hitch, it's not always a smooth ride getting there. Perfectly executing a big protest with permits, props, signs, and costumes—all while coordinating staff and volunteers—is no easy feat, even when our campaigns team manages to make it look effortless.
5 Jaw-Dropping Stories From PETA Campaigns Manager Tricia Lebkuecher
Lord Voldemort Saves the Day
The first demonstration I ever led for PETA was a rush demo we planned overnight in the wake of the creepy clown sightings of 2016. The idea was to set up outside McDonald's, where we would hang an effigy of Ronald McDonald and "debeaked chickens" would throw veggie burgers at him. Then, understandably, the volunteer for the role of Ronald McDonald got cold feet after he found out that he'd be hanging upside down from some scaffolding. So I headed to a Halloween store and purchased a skeleton, a Lord Voldemort mask, and some ping-pong balls that looked like eyes. I painted the face to look like Ronald's and hung the skeleton from the scaffolding. After the overnight shipment with the rest of the demo components arrived from PETA headquarters in the morning, I dressed the skeleton to look like Ronald and, voilà, the demo was a great success.
Caught Vandalizing My Own Property
We did a lot of amusing things for the Chrysler Iditarod campaign (which is now a PETA victory). One night in Philadelphia, I was in my supervisor's driveway spray-painting a junky old Chrysler that we were planning to smash at the Philadelphia Auto Show the next morning (a video that got 3 million views on Twitter). My boss went inside to finish up some work, and one of her neighbors came outside and started interrogating me about the vehicle—asking what I was doing and why. I gave him a leaflet and explained what was going on—that the homeowner knew and that the property I was vandalizing was my own. He was skeptical, but he eventually left. Whew!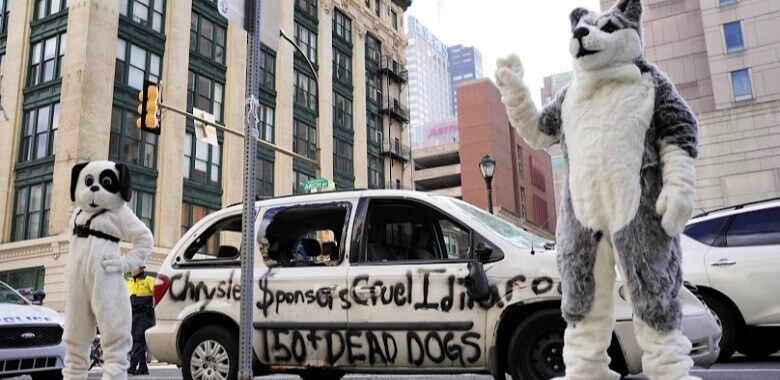 Is It Breaking and Entering if the Gate Was Ajar?
The PETA team had express-shipped a costume to me for a last-minute demo, but on the morning of the event, the package was delayed. I had it rerouted so that I could pick it up on the drive to the demo, but when I got to the UPS facility, I found that it was inexplicably closed from 10 a.m. to 2 p.m.—and I'd arrived at 10:30! Not to be deterred, I drove through the opening of the gate and wandered around the facility on foot until a UPS employee saw me and asked how I'd gotten in. I told her that the gate was ajar and begged her to give me the package. She found it for me, and the demo was held without any more hitches.
Construction Workers to the Rescue
We were planning to hold a demonstration outside Pfizer's headquarters using a dunk tank to urge the corporation to end its forced swim test (which it later did). But the rental company delivering the tank didn't feel comfortable pulling up to our demo location because there wasn't a parking spot, so the driver dropped the tank off about a block away. My volunteers were running late, so I had to roll the massive dunk tank weighing several hundred pounds into position by myself. The police officers on site to monitor the protest said they felt sorry for me but that they couldn't help because of "liability reasons." Instead, they watched me struggle with this thing for about half an hour. Eventually, some passing construction workers took pity on me and helped put the dunk tank in the perfect spot. Wouldn't you know it? Only then did my volunteers turn up.
If There Were Ever a Good Reason to Get Arrested …
As part of our long campaign against Texas A&M University's canine muscular dystrophy laboratory (which is now closed), we held a demonstration at a Board of Regents meeting on Halloween 2019 with actor James Cromwell (PETA's 2022 Person of the Year). About halfway through our protest, James felt so moved by the dogs' plight that he was compelled to speak out and disrupt the meeting—marching through the room holding up his sign. He was arrested on the spot and ushered out of the room in handcuffs. Just in the nick of time, our photographer snapped a great photo of James' arrest, which circulated widely in the media. The police were less than thrilled about the incident and held James and a fellow protester in jail for nearly five hours. Given the late hour of the day, no one was available to pay the bail, so it was up to me to secure the release of James and the other protester. PETA does a lot of work with public figures, but it's not every day that you get to bail a celebrity out of jail with your personal credit card!
*****
The next time you see a PETA demo in the news, you'll be able to appreciate better the hard work that went into pulling it off. We certainly appreciate our campaigns team!
Join PETA's Action Team and Our Epic Demos in Your Community