The deadly Iditarod race has killed more than 150 dogs in its history—and this number doesn't include the countless others who have perished during training or while chained outside with little to protect them from Alaska's bone-chilling winters.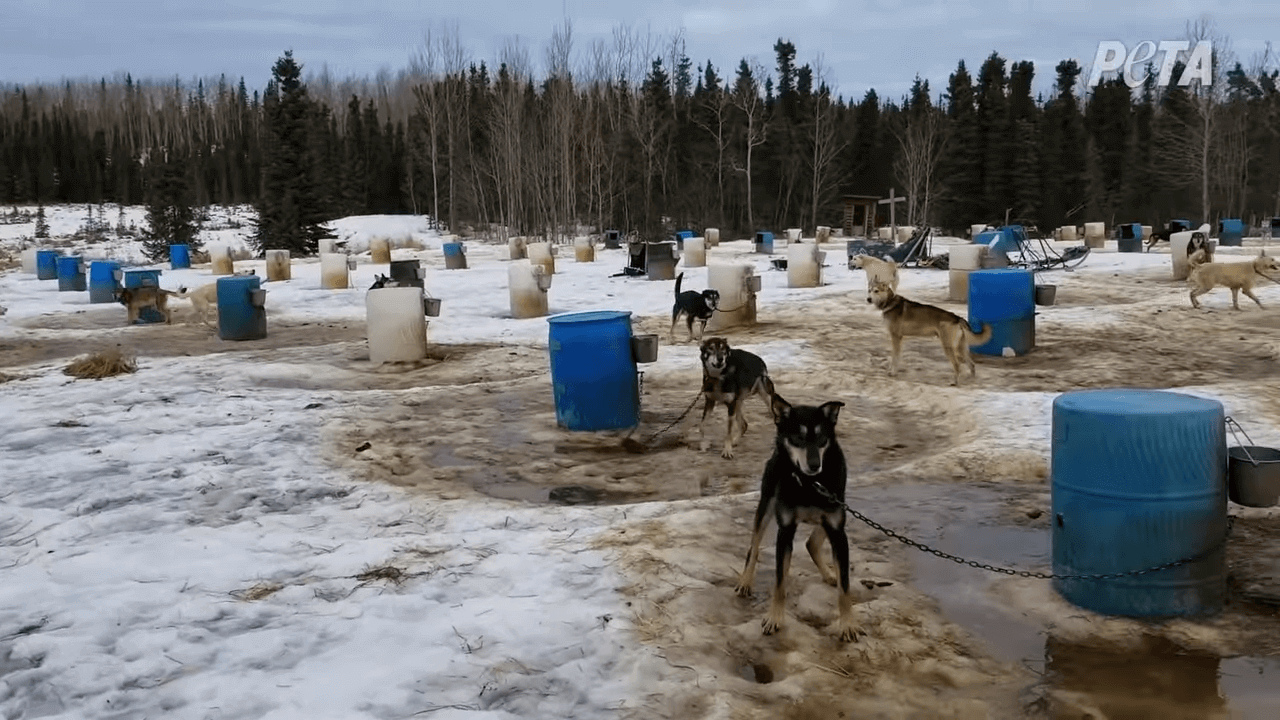 What Is the Iditarod?
In 1925, dogs pulling sleds along a mail route delivered an emergency supply of serum to quell a diphtheria outbreak in Nome, Alaska. Today, people refer to the route as the Iditarod trail, and the race exploits the trail's history to force dogs to run for their lives.
The 2023 Iditarod begins on March 4. During the race, mushers will force dogs to run about 100 miles a day for up to two weeks, with very little rest (only 40 hours are required to be allotted over the course of the entire race) and no reprieve from the biting winds, blinding snowstorms, and subzero temperatures. The leading cause of dog deaths during the event is aspiration pneumonia, caused by inhaling their own vomit. Up to half the dogs who start the race don't finish it due to exhaustion, illness, or injury. After the 2019 Iditarod, three-time race champion Mitch Seavey told workers he'd noticed that one dog had labored breathing, but he went ahead and made the dog run more than 50 additional miles before taking him off the trail. Some of Seavey's dogs finished the race with split, "chewed up," and "hamburgered" paws.
How the Dogs Are Treated When They're Not Being Forced to Race
When not racing, most of the dogs spend their lives on short chains with inadequate shelter. A PETA exposé of dog-sledding operations owned by Iditarod mushers documented that arthritic, crippled, and injured dogs were denied veterinary care; chained dogs had raw, bloody paw pads from running in circles around the plastic barrels that were their only "protection" from below-freezing temperatures; and dogs were dragged, injured, and even killed during training.
At a kennel operated by former Iditarod champion John Baker and musher Katherine Keith, PETA's eyewitness found dozens of frantic dogs chained near dilapidated, uninsulated boxes—some of which had collapsed—in wind chills as low as minus 19 degrees. Dogs were routinely fed a "stew" of rotten or moldy meat that at times was so foul they couldn't eat it. Many dogs' ribs and hips protruded. Once, some of the dogs were tied to a moving jeep and one of them became tangled up. Baker refused to untangle her, allowing her to be dragged along an icy road for about 500 feet, which he said would "teach her" to "reconsider slowing" when she was tired. When another dog slowed down to defecate, Baker refused to brake, saying that it's "better to have a dead dog" than a "dog [who] slows down the team."
What PETA Is Doing to Save These Dogs
PETA is working to end this morally corrupt spectacle. We hit local radio stations with a 15-second alert from an Alaska resident that lets people know how dogs are kept chained outside in the bitter cold when they're not being forced to run the Iditarod. We launched a full-page appeal in top Alaska publications like the Anchorage Daily News and the Fairbanks Daily News-Miner. The ad blitz also included a message at Juneau International Airport: "Adore Alaska. Hate the Iditarod."
Anchorage resident and PETA director Michelle Sinnott fired off a letter on our behalf to Alaska Gov. Mike Dunleavy—known for his love of dogs—urging him to call for the permanent cancellation of the race. And after hearing from PETA and over 40,000 of our supporters, Cue Health stopped sponsoring the cruel Iditarod. Alaskan healthcare company Greenbrook TMS also dropped their sponsorships ahead of the 2023 Iditarod after hearing from our supporters. Dozens of other companies—including Alaska Airlines, Chrysler, Coca-Cola, and ExxonMobil—have also cut ties with the race.
In the coming weeks, PETA will campaign vigorously with creative direct-outreach protests, advertisements, and online and social media campaigns to make this the last year of the despicable race.
What You Can Do to Help End the Iditarod
Help us urge the remaining sponsors of the Iditarod to do what's right by cutting ties with the death race.