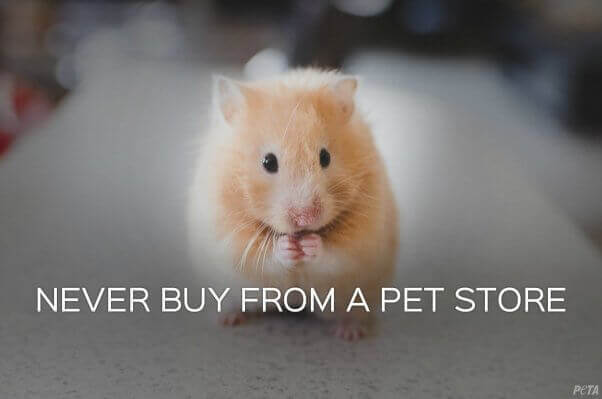 If you're like most compassionate animal guardians, you're careful never to buy your animal-care supplies from stores like PetSmart, Petco, and Pet Supplies Plus, which sell animals who have been raised in hellish mass-breeding mills or torn away from their homes and families in nature.
Online animal-supply retailers might seem like a good alternative, but buyer beware: Many are owned by companies that support the cruel pet trade. Recently, it was reported that Chewy.com has been purchased by PetSmart—so buying products from Chewy now means lining the pockets of companies that are responsible for tremendous systemic cruelty to small animals. Many other online animal-supply stores—including OnlyNaturalPet.com, Pet360.com, PetFoodDirect.com, and Doctors Foster and Smith—are also owned by companies that profit from peddling live animals.
PETA's investigations of the warehouses that supply animals to pet store chains such as PetSmart and Petco have revealed rampant cruelty in every single case. Some operators of these mills have been convicted of cruelty and federal animal-trafficking violations in light of PETA's findings.
At Reptiles by Mack, which supplies animals to PetSmart, PETA documented that living beings were deprived of water for weeks, that sick and injured animals were denied veterinary care, that animals were cruelly killed by being gassed or frozen to death, that reptiles were caught on makeshift glue traps and carelessly yanked off or left to suffer and die, and other horrors. Yet in spite of video evidence, PetSmart continues to buy animals from this company.
At Holmes Farm—a notorious mill that supplied hamsters, rabbits, gerbils, chinchillas, ferrets, and other small animals to Petco, PetSmart, Pet Supplies Plus, and other chains—workers piled dozens of animals into a feces-smeared cooler and crudely gassed them. Live rats were stuffed into plastic zipper bags or tossed onto plastic lids and put in a freezer, slowly freezing to death as they frantically tried to claw their way out. Holmes Farm is now under federal investigation, and the manager was charged with 28 counts of cruelty to animals. He has pleaded guilty to two of them.
At the now-shuttered U.S. Global Exotics, a massive wholesale facility in Texas that supplied animals to other wholesale distributors, including suppliers to Petco, PetSmart, and Petland, PETA's eyewitness saw thousands of hamsters crammed into severely crowded litter pans, causing the animals to fight and cannibalize each other. Faulty watering-system nozzles often flooded the bins, leaving hamsters and gerbils to fight for hours in order to keep their heads above water.
These are just a few of PETA's many pet-trade investigations—each of which has revealed horrific suffering.
So what's a concerned animal guardian to do? Research! Some online retailers, such as 1800PetSupplies.com and PetFlow are not affiliated with or owned by animal-abusing companies. Target and some other brick-and-mortar stores sell supplies but not live animals. You can also investigate local "mom-and-pop" stores in your community that don't sell animals—they are usually happy to special-order products for you.
And of course, be sure to let Chewy know why you will no longer be buying your supplies from it. Chewy's CEO, Ryan Cohen, can be reached at [email protected]. Please keep your correspondence brief and polite.
Every cent spent at stores that sell live animals supports and promotes abuse. So please, never buy anything—not even a bag of cat litter—from stores that treat living beings as if they were commodities.