When the Easter Bunny Comes Home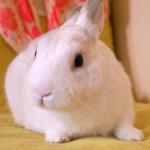 The candy is eaten, the colorful baskets are stowed in the attic, and the tiny frilly socks and poofy pastel dresses are thrown in the back of the closet. The only semblance of Easter that remains are a few plastic eggs that are still MIA in the yard and a lonely bunny who went from celebrated icon to old news before he was just 2 months old.
That is how I found my second rabbit, Little Bun, who is now the life partner of my first rabbit, Edwin. Little Bun was crammed into a tiny cage in a photographer's dark corner closet, thrown away like a set prop. His brothers and sisters were given away to parents who wanted to stuff them in baskets as a "surprise" for their children. He was only 2 months old and was already all alone and ignored.
However, his fate is not the worst of all the bunnies who are impulsively purchased in the sugar- and cottontail-induced frenzy that is Easter. Some do not find good homes. Many are turned over to animal shelters after kids grow bored with them, or, worse, they are let outside to be "free" and are very quickly hit by cars or eaten by other animals.
The truth is, rabbits are not good pets for children. They are nothing like the precious E.B. from Hop whom your children are imagining when they beg for a bunny. Real rabbits don't play the guitar or the drums. They are prey animals and are therefore very scared and skittish. They don't perform in rock concerts, and they usually hide during the day. Sometimes the only way you know that they have come out is that they have chewed something up, like your shoe or the wall.
If you can't imagine the thought of having a somewhat anti-social, skittish, and possibly expensive (can you say specialty vet bills?!) little fluff ball of destruction hopping around your house for the next eight to 10 years, get your kids a chocolate version of their new favorite bunny instead!
If you find that you still want to give a bunny a good home after your candy has digested, there will be plenty of rejected Easter bunnies who will need loving caretakers in the next couple of months. Head to your local animal shelter and adopt!