The Meat Industry's Appetite for Antibiotics Could Make Everyone Sick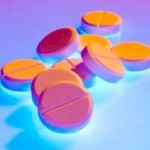 Last March, a federal court ruled that the U.S. Food and Drug Administration (FDA) should start restricting the use of certain growth-promoting antibiotics in farmed animals—unless the drug manufacturers could prove that the antibiotics wouldn't contribute to the rise of antibiotic-resistant superbugs that have been appearing in more and more health-care facilities. The FDA then developed some "voluntary guidelines" for the meat industry in the apparent belief that the meat industry would somehow police itself.
That hasn't worked out too well.
Nearly a year later, the FDA is still working to implement the guidelines, and meanwhile, the meat industry's appetite for antibiotics continues to grow. According to a recent report by Pew Charitable Trusts, the meat industry now consumes approximately four-fifths of the antibiotics used in the U.S.—and this intensive use has potentially deadly consequences for consumers.
Antibiotic-resistant bacteria is now being found on meat sold in supermarkets in the U.S. as well as on factory farms in both America and China. A multinational team of researchers from Michigan State University and two campuses of the Chinese Academy of Sciences recently found "diverse and abundant antibiotic resistance" in Chinese pig farms.
The Pew Charitable Trust report shows that both salmonella and campylobacter bacteria are resistant to at least one type of antibiotic. For example, approximately 95 percent of the retail chicken products tested by National Antimicrobial Resistance Monitoring System were contaminated with campylobacter, and nearly half of the bacteria were resistant to tetracyclines, antibiotics that are commonly used to treat sick people.
The discovery of antibiotic-resistant bacteria in both the U.S. and China is not at all surprising. Superbugs, including E. coli and MRSA, will flourish wherever pigs, chickens, cows, and other animals are raised in cramped, feces-filled factory farms. These germs can and have spread from farmed animals to humans and then from person to person.
While not giving antibiotics to healthy animals is a good first step, not raising animals for food is a much better one! Antibiotic-free or not, animal-based foods are high in cholesterol and saturated fat and contribute to heart disease, cancer, diabetes, and other life-threatening conditions. Vegan foods, on the other hand, are cholesterol-free, generally low in fat and calories, and don't naturally harbor harmful bacteria. So please make your next meal a vegan one. Everyone—humans and all animals—will benefit because of your compassionate choice.