Fire and Light: Environment- and Animal-Friendly Dishware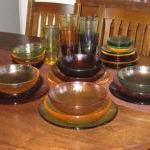 Wikipedia defines bone china as "a type of porcelain body first developed in Britain in which calcined cattle bone (bone ash) is a major constituent."
That certainly doesn't sound like something I want to serve my delicious vegan meals on!
As an ethical vegan first and an environmentalist second, I try to make certain that my purchases are in line with my beliefs. On my many frequent visits to my favorite little city in the redwoods, Arcata, California, I noticed some beautiful glassware that was being displayed and used in a variety of ways, and most of the store owners were selling it. Some of my friends had it all over their homes, as decorative and functional pieces. It is beautiful glass in lovely rich colors, somewhat thick and heavy and simple in design, yet extremely artistic. I found out that this glassware is made by a company based in Arcata called Fire and Light. And it's made entirely from recycled glass, so it supports my beliefs about animals and the environment.
I started to collect a piece here and there. A candy dish on one trip. A zen bowl on another. A lovely vase as a gift. Then I decided to splurge and invest in a set of dinnerware. I bought plates, bowls, and glasses. I bought them in a variety of colors, so they didn't match. They are fun and funky for everyday use, but at the same time, they are gorgeous enough for a fancy vegan dinner party, and the hues really complement and accentuate the natural beauty in the plant-based dishes that I serve.
I love that they are made from 91 percent crushed recycled glass. I also really love that I can have a special set of dishes that do not have any animal products embedded in them. Fire and Light glass is sold all over the country. They have a beautiful Web site, which is full of information and pictures and even locations of stores where you can buy this glassware in your area.
Check them out and let me know what you think. And I would love to hear if you have other ideas for making sure that your dishware is as cruelty-free as the food you serve.