A Vegan Running Inspiration!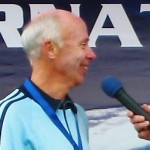 John Waddell may be nearing 70, but thanks to his healthy vegan lifestyle, he shows no sign of slowing down! This Australian has been running regularly in some of the most competitive marathons in his home country, including, most recently, the very competitive Sydney Marathon.
For this 69-year-old, a vegan diet "is a recipe for fitness" that has allowed him to stay active and even to come in at the top of his age division in The Great Ocean Road Marathon, a race that has been called Australia's hardest road marathon.
John recently shared with us his thoughts about running and how avoiding unhealthy animal products has helped keep him fit when many people his age are more concerned with retiring than lacing up their running shoes:
A few years ago I met one of my school friends from 1960. We discussed what we'd both been up to, and regarding my marathon running, I reminded him that I was the worst runner in our year of 200 boys. He responded with: "That's not true." I replied: "You know it is, Tony." Then Tony added: "Yes, but it's not the whole truth. You were the worst runner in our year by far."
With no athletic talent, I can only credit my winning of marathons in my age division to having been vegan for 35 years and vegetarian for 50. In my 70th year, I was still able to run the whole 42 km of the Canberra Marathon without a break for even a second and not feel any need to rest at the end.
It's worth comparing that with another vegan, who makes my running efforts look like a walk to the front gate. After six years as a vegan, Scott Jurek twice won the world's toughest endurance race (Death Valley's 215 km in temperatures above 50 degrees Celsius), was seven times consecutive winner of the Western States 160-km run, and has been nominated as "the top ultra-runner … maybe in the world, arguably of all time" by Christopher McDougall in his book Born to Run.
I recommend distance running not only to maintain fitness, but also for the enjoyment. Yes, enjoyment, especially because of the friendship with and sympathy from opponents. We all know and understand what others are going through at times during the race. I appreciate the opportunity to encourage people to avoid animal products without having to worry about any consequent lack of strength and endurance.
Here's hoping that John's dedication will inspire more PETA Prime readers to take up running—and an animal-friendly lifestyle—regardless of their age!