Delicious Treats That Help Animals!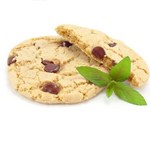 Just in time to help satisfy your holiday sweet tooth, one of our favorite sources for all kinds of vegan treats, Allison's Gourmet, is holding its first-ever "Gourmet Benefit for Animals."
During the entire month of November, this award-winning bakery and PETA Business Friend will donate 10 percent from every sale to PETA and two other animal-friendly charities.

Allison Rivers Samson started her company in 1997, and it's since grown into the online destination for all kinds of terrific vegan goodies. With choices ranging from famously delicious cookies to wonderful artisan chocolates, not to mention caramels, coffee, hot chocolate, and tea, you're sure to find plenty to satisfy your holiday sweet tooth! Compassionate celebrities such as Alicia Silverstone and Rory Freedman have sung the praises of Allison's Gourmet's vegan, organic, and fair-trade goodies, and PETA President Ingrid E. Newkirk herself calls them simply "heavenly"!
There may never be a better time to try some of the very best vegan sweets out there and help animals at the same time! Be sure to get your order in today  for your own compassionate holiday meals—and remember to select PETA as you check out to donate 10 percent of your purchase price to our groundbreaking work for animals!