Does Your Pooch Buckle Up?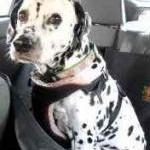 According to one  study, 60 percent of dog guardians have been distracted by their canine companions while driving, and only 17 percent use some sort of restraint system for their furry friends. Using a travel harness, carrier, or restraint for your companion animal protects you and your dog by minimizing distractions while driving and safeguarding your animal from being thrown about in an accident.
Penny, my rescued spotted princess, accompanies me to work every day, and before starting our commute, we both buckle up. In addition to a restraint, she also has a hammock-type seat cover that keeps the seat clean from her hair and serves as a barrier between the front and back seats. Although Penny isn't typically a distraction (car rides equal nap time for her), I invested in a harness for her to keep her safe in case of a crash. If a wreck occurs at just 35 miles per hour, a 60-pound dog can exert 2,700 pounds of force on impact!
There are plenty of companies that manufacture travel safety gear for companion animals, and you can find them at pet supply stores or through online retailers. A simple search online produces dozens of results. Protect yourself, other drivers, and your furry friends by making sure your animals are safely secured while driving.
Where do you go with your dog in the car? Does your pooch buckle up?