Retirement Communities Make Room for Rover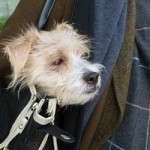 If you've ever helped a loved one choose a retirement community, you know how important it is to ask a lot of questions before making a decision. For people with four-legged friends, one of the most pressing questions is "Do you allow animals?"
Not so long ago, the answer was likely to be "No." But fortunately, that's beginning to change. According to a recent article in the Chicago Tribune, the number of senior-living communities that allow residents to move in with their animal companions has "increased substantially in the past five to 10 years as more families request it." One senior-living referral service says that about half of the 18,000 programs in its network are now animal-friendly.
This is a great trend, and one that could result in many health benefits for retirement-community residents, as studies continue to confirm the palliative powers of animals. For starters, animals have a unique soothing effect and can supply much-needed comfort and companionship to people who might otherwise feel socially isolated. Research has also found that being around animals can reduce stress, relieve depression, and decrease cholesterol, triglycerides, and blood pressure. One landmark study by the National Institutes of Health found that having a dog improved heart-attack victims' one-year survival rate. Another study of 240 married couples showed that animal guardians had lower pulse rates and blood pressure compared to couples without animals. Recovery times from illnesses are also shorter for people when they are with their animals than when they are with their spouses or friends.
Even robotic animals can make a big difference in people's health. One study found that interacting with Paro, a furry robotic baby seal who responds to being stroked by cooing and batting his eyelashes, boosts dementia patients' mood. Paro is also being used to help children with autism.
Whether you decide to spend your golden years at home or in a senior-living community, there's now no reason that Fido or Fluffy can't stay with you. Remember that it's also important to make careful preparations for your animals' future care in the event that you can no longer care for them yourself. To request a copy of PETA's Companion Animal Planning Packet, e-mail us at [email protected].