Fountain of Youth Found at Grocery Store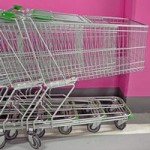 Juan Ponce de León claimed that the "Fountain of Youth" was in Florida, but many researchers think it's in the grocery store. If you look at the produce aisle, you'll find many fruits and vegetables that you probably eat all the time that are known to have age-defying properties, including spinach, avocados, tomatoes, garlic, carrots, orange-colored melons, and berries.
Blueberries, in particular, are bursting with antioxidants, which help prevent all sorts of ailments, from cataracts, glaucoma, varicose veins, and hemorrhoids to peptic ulcers, heart disease, and cancer. Research also shows that blueberries may lower your risk of age-related macular degeneration and Alzheimer's disease.
Tofu, walnuts, wine, and beans are also among the healthiest foods to eat if you want to live a long and energetic life. Tofu has even been called the "elixir of longevity" because many Japanese people rely on its nutrients for a long life. This versatile soy food is a protein powerhouse that contains lots of manganese, iron, selenium, and other necessary nutrients but is virtually free of saturated fat and low in calories.
Plant-based foods have been shown to prevent—and sometimes even reverse—many deadly diseases and help increase your life expectancy. Studies show that vegetarians and vegans live an average of six to 10 years longer than meat-eaters. T. Colin Campbell, Ph.D., the star of the renowned documentary Forks Over Knives believes that what we often think of as "normal" illnesses of aging are not "normal" at all. People can avoid most types of cancer, cardiovascular diseases, and other degenerative illnesses simply by eating vegan foods, he says.
So while you may not be able to turn back time, you can make the most of the time you have. You won't find too many vegan seniors whiling the days away in a rocking chair. Take Fauja Singh, the oldest marathon runner in the world. This summer, just three weeks after his 101st birthday, Singh ran the London Marathon in seven hours and 49 minutes. The "Turbaned Tornado" attributes his stamina, health, and longevity to simple vegetarian foods.
Singh is a Sikh. In the Sikh religion, he claims, people eat to live, not live to eat. A 2012 Harvard School of Public Health study—which  followed more than 120,000 people for up to 28 years—shows that there's something to this theory, too. Study participants who ate lots of red and processed meats were much more likely to die prematurely than those who ate nuts and other wholesome plant-based foods instead of meat.
So, if you want to spend as much time helping animals and playing with your grandkids as possible, check out PETA's vegan recipe page and incorporate vegan super-foods into your meals whenever you can.