Thoughtful Cuisine in the Rio Grande Valley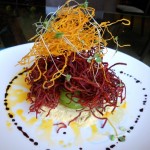 It's easy getting around the South Texas town of  McAllen by bicycle thanks to various bikeways and a sensible grid layout of streets. That's a good thing, since I had several must-visit culinary stops between bird- and butterfly-watching forays.
While named in a recent survey as being the nation's most obese metro area, this vibrant lower Rio Grande Valley community has mounted a healthy local food renaissance that includes a deep commitment to plant-based dishes.
New farmers' markets in the area include the downtown Market at Alhambra, which is held in the revitalized 17th Street entertainment district. Having won numerous awards, Alhambra chef James Canter has set a new goal of helping his community become healthier and more sustainable and he's currently establishing a farm and nonprofit status to extend these efforts. Chef Canter has also begun teaching a popular vegan cooking class.  Moorish and Mediterranean are among the delicious inspirations  evident in the hot and cold tapas served at Alhambra and the vegan ravioli stuffed with Jicama and crisped avocado both come recommended.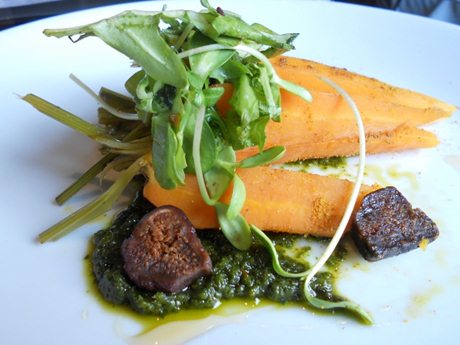 Fortunate to be in town when Alhambra was open for dinner, I started with a salad of tomato, microgreens, quinoa, extra-virgin olive oil infused with mustard with a pinch of salt the chef harvested during a hike. This was followed by dishes of carrot, figs, arugula with carrot-top pesto, a terrine of beet and kohlrabi, and lemon-tossed green tomato. Each dish was dusted with spices ground and toasted on-site, including some rare chiles and sumac.
Up the street, I attended a great "Fooducation" film discussion night at the beautifully preserved Cine El Rey. The packed house included some animal and health advocates distributing vegan eating guides and food awareness brochures. I learned of the Fooducation series from both Chef Canter and local trailblazer Lily Majors, who opened Major Health Foods in 1982. The store is close to the Quinta Mazatlan urban bird sanctuary and recently expanded to include Naturalisssimo, a cafe featuring raw and vegan cuisine and healthy cooking classes taught by chefs Lupita Salazar and Art Flores.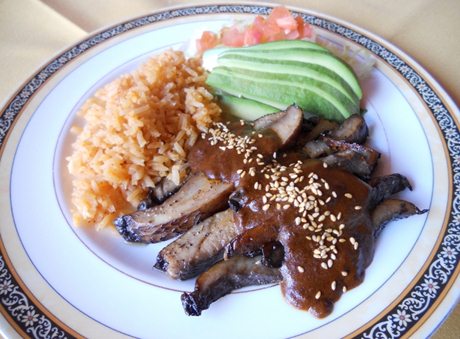 Back on 17th Street, a modest doorway leads to Frida's new patio garden lounge, bar and art-filled dining room. There I was transported to Mexico with a feast of lentil soup, an amazing portobello mushroom mole, housemade corn tortillas and other all-vegan twists on chef Adela Ortega's traditional family recipes.
I found tasty vegan selections at other restaurants as well. For lunch, house.wine & bistro serves a delectable sandwich of locally sourced roasted veggies with super-fresh kale and butternut squash fries.  The Blue Onion II makes a satisfying hummus-veggie wrap with thick tangy berry vinaigrette. At colorful, trendy City Café, I cooled off with a raspberry herbed tea and a Mediterranean teaser of delicious house hummus, lightly seasoned quinoa and grilled veggies.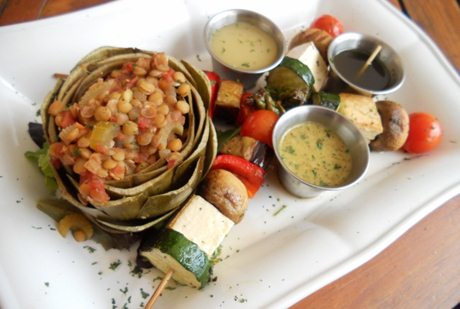 Chef Miguel Dominguez welcomes veg diners to Roosevelts at 7 with vegetable shish kabobs and a filling lentil soup served in a hollowed artichoke "bowl." Thai Red Chili's offers a couple of vegan entrees for which you can specify your heat preference. I had red curry tofu with lovely velvety texture. The kitchen of Feldman's Gourmet Deli and Wine is staffed by young culinarians such as Elia Juarez, whose pride showed in a plate of little surprises including steamed baby bok choy with walnut miso dressing, ginger-braised sweet and blue potato, and steamed almond and ume tofu.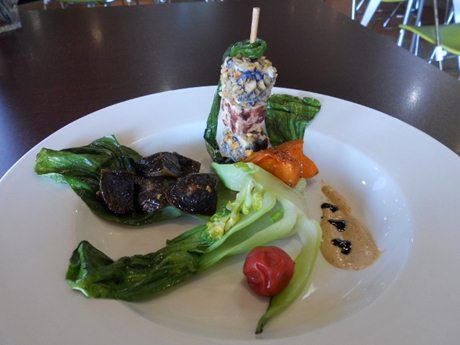 Taquerias have joined the health wave as well. At the family-owned Taqueria La Justicia , I enjoyed delicious sopes embellished with poblano pepper and corn as well as tomatoes sopes, potato taquitas and a purifying juice of celery and spinach so refreshing. I finished the meal with a "Superman" of fresh-squeezed orange juice, beets, carrots and apple that made a perfect dessert after a full day of biking between birdwatching spots.
I'll be sure to time my next Rio Grande visit so that I can attend the monthly vegan potluck feast organized by bicycling raw food chef Mark Deckard who introduced me to another great regional resource, Valley Vegans.