Prime Book Review: 'The Lean'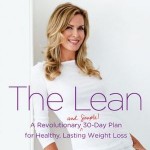 Kathy Freston has done it again. The author of six previous books, Kathy has produced yet another terrific book, The Lean: A Revolutionary (and Simple!) 30-Day Plan for Healthy, Lasting Weight Loss.
In her last book, Veganist—which was reviewed on PETA Prime last July—Kathy introduced us to the concept of "leaning" into a vegan diet. Now she takes full advantage of the double meaning of the word "lean" by guiding us on how to become more lean and how to achieve that goal by leaning into a diet and a lifestyle that are attainable, sustainable, and better for animals.
The 332-page book is composed of two parts: a 30-day, one-step-a-day cumulative plan as well as an extensive appendix with nearly 100 pages of recipes and resources. Each of the 30 items in the first part of Freston's book deals with some aspect of diet or lifestyle (including mind, body, and spirit). Every one is relatively simple, but Kathy provides a wealth of information to explain her reasoning and still manages to convey all the facts, research, and science in an easy-to-read and conversational manner with a good dose of humor.
Unlike so many diet plans, Kathy doesn't suggest that you embrace all 30 steps on day one. Rather, she urges readers to "lean" into each one, a day at a time. For those who might still find that approach to be too much too soon, one could take it more gradually by turning the 30-day plan into one that takes 60 or even 90 days to complete.
Some of the 30 items are so basic that we might overlook them, like drinking lots of water and the advantages of actually eating "an apple a day." Thanks to The Lean, I've rediscovered the simple and healthful joy of a bowl of oatmeal for breakfast.
Several of the items deal with the need to transition to a plant-based diet.  Rather than make some uneasy with suggesting a quick switch to a compassionate vegan diet, Kathy leans them into the same place by systematically eliminating animal-sourced food and replacing it with delicious plant-based options. She shows that a plant-based diet is good for the body, the environment, and animals.
Even though I've been vegan for nearly 12 years, The Lean was a real eye-opener for me, leading me to a better understanding of the changes that I needed to make to embrace a healthier vegan diet. As they say, just because it's vegan doesn't mean it's healthy!
In addition to her books, Kathy has appeared on Ellen, The Oprah Winfrey Show, Dr. Oz, The View, Good Morning America, and CBS's the Early Show. Her work has been featured in Vanity Fair, Harper's Bazaar, Self, W, and Fitness. She is a regular contributor to The Huffington Post. To read more on Kathy Freston, visit her website.
You can buy The Lean and support PETA's work for animals at the same time by making your purchase through the Barnes & Noble link at the PETA Mall.
Why consider a diet plan that's difficult and mean when you can enjoy one that's easy, compassionate, and lean?