A Safety Warning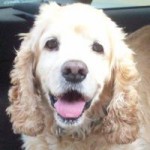 Tess, a longtime PETA supporter and member of PETA's Augustus Club, recently contacted us after one of her dogs was unexpectedly badly injured by an everyday object that is found in many homes. We at PETA Prime wanted to share Tess' story with you in the hope that it will help make you more aware of a possible danger to the animals in your own home.
One recent morning as my four dogs got up, "Joshie," the cocker spaniel, stepped on the edge of a dog food bowl. It was one of those typical heavy ceramic food bowls that have become standard in the pet supply industry and are common in many homes with animals. The lip of the bowl broke off as Joshie's foot hit it. His foot came down on the sharp edge of the broken bowl, and in an instant he had a severe cut on his foot.
From the massive amount of blood that was gushing from his paw, I knew he needed to be rushed to the veterinary hospital. The pool of blood in my kitchen—and then in the car on the way to the vet—left me terrified that Joshie's sudden injury would mean the worst. I called to say that I was on my way and was relieved to see the vet techs meet me at my car. Even they were shocked at the amount of blood in the car and covering Joshie.
Upon inspection of the foot, they told me that Joshie had severed the artery in his foot along with a tendon, a ligament, and surrounding muscles—a potentially deadly injury.
Thankfully, we had reached the vet in time and the doctor successfully reattached the artery, tendon, ligament, and muscles in a lifesaving surgery.
I hope you'll see Joshie's horrible injury as a cautionary tale. Heavy ceramic food bowls, like the one that my dog injured himself on, are potentially found in the households of millions who live with animals. Many dogs may jump up wildly near their usual feeding area when they know that their food is coming. The risk seems even greater when you consider that Joshie was not jumping at all and he only weighs 40 pounds! He just hit the bowl with his normal walking stride and it broke. While it may seem like a freak accident, I feel that any dog could be at risk if they hit the lip of one of these bowls just right with their foot.
The pet-supply industry may sell them to make us humans feel as if we are treating our dogs like royalty, but in truth, there is a deadly danger hidden in these ceramic food bowls.
My veterinarian told me to get rid of these ceramic bowls and just use metal, and I encourage anyone with dogs in their home to do the same.
Have you ever had an experience with a bowl or other common household item that presented an unforeseen threat to dogs or cats?