Prunes Prevent Prostate Cancer?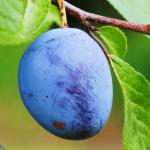 Self-confessed "meat-and-potatoes guy" Gabe Canales got a wake-up call at the age of 35 when he was diagnosed with prostate cancer. "My doctors and nutritionist told me to remove red meat from my diet, and I have, though for someone who grew up eating it two to three times a day, that was a challenge," he wrote recently in a blog post for The Huffington Post.  Canales cites the recent headline-grabbing study by the Harvard School of Public Health as evidence to support his doctors' advice.
This important new study concluded that eating red meat increases the risk of premature death by as much as 20 percent. More specifically, a study published last year indicated a link between grilled, barbecued, and well-done meat and aggressive prostate cancer.
But meat isn't the only prostate bugaboo—dairy products are also a danger. According to the World Cancer Research Fund, 11 separate human population studies have tied dairy consumption to prostate cancer. Results of the landmark Physicians' Health Study of 20,885 doctors showed that men who consumed at least 2.5 servings of dairy foods (about one bowl of ice cream) daily were about 30 percent more likely to develop prostate cancer than men who averaged less than half a serving a day. The Health Professionals Follow-Up Study found that men who consumed high amounts of dairy products had a 70 percent increased risk of prostate cancer.
And don't think for a second that those only dining on chicken and eggs are off the hook. A study of men with prostate cancer found that those who consumed eggs and chicken with skin had a two-fold increase in the risk of the disease progressing. By contrast, another study of men diagnosed with prostate cancer showed that a diet rich in fruits, vegetables, and grains can slow or even halt the progression of the disease.
Canales encourages all men to "go at least one day per week without eating any meat, and to embrace Meatless Monday," an international program spearheaded by Sir Paul McCartney. Better still, why not follow Sir Paul's example and go meat-free eight seven days a week?
Get started preventing prostate cancer and a host of other deadly diseases today by ordering a free vegetarian/vegan starter kit.