Norovirus: From Cruise Ships to Seafood Buffets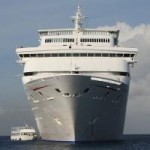 Because of the stories of sick passengers on cruise ships, I'd always associated norovirus with cruise travel, but it turns out that you can get the same virus just by eating "improperly cooked" shellfish while you're still on shore. Oysters, in particular, are likely to carry norovirus, which causes sudden vomiting, diarrhea, and stomach cramps. According to the U.S. Centers for Disease Control and Prevention, norovirus is likely responsible for 50 percent of all food-borne outbreaks of gastroenteritis in the United States.
Many restaurants even post warnings about the dangers of eating shellfish. Norovirus can be transmitted via contaminated food or water or person-to-person contact, or it can spread when people or items come into contact with contaminated surfaces, such as countertops, elevator buttons, or doorknobs.
That's why outbreaks often occur in high-traffic areas, such as college campuses, hospitals, nursing homes, and, of course, cruise ships, where there are a lot of people and a lot of seafood buffets.
Norovirus affects more than 20 million Americans every year and is responsible for about 800 deaths, usually as a result of dehydration. Children and elderly people are especially susceptible, and experts often caution people to wash their hands frequently and to sanitize surfaces where norovirus particles may be present. While this may help reduce the risk of contracting and transmitting norovirus, it would probably be more prudent not to eat oysters, clams, and other shellfish—or any other sea animals, for that matter!
Eating even "just a little seafood" puts you at risk for norovirus, which food inspectors cannot currently detect. And norovirus or no norovirus, it's simply neither safe—nor kind—to eat sea life. Fish and other sea animals are likely to harbor other harmful contaminants, including mercury, PCBs, cadmium, lead, chromium, and arsenic. All these toxins can contribute to birth defects, kidney damage, impaired mental functions, and cancer. Fish flesh is also known to contain tapeworms. Ewww …
According to the Physicians Committee for Responsible Medicine, fish is frequently the subject of government health-risk advisories. The Center for Science in the Public Interest found that fish and shellfish dishes caused more foodborne-illness outbreaks than any other food between 1990 and 2003.
Fish flesh also contains cholesterol and fat. Fifteen to 30 percent of the fat in fish is saturated fat—that's lower than beef and chicken, but still much higher than vegan foods.
Now, I'm not a doctor, nor do I play one on TV, but considering that fish and shellfish frequently carry harmful contaminants as well as fat and cholesterol, it seems that the sensible thing to do is to choose wholesome vegan foods. And if you're hooked on the taste of seafood, there are even faux-seafood options, so you can still enjoy the "taste of the sea" without getting "seasick."