When Life Gives You Lemons, Reduce Your Stroke Risk?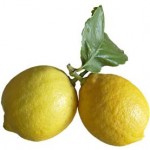 Citrus fruits are in season—and that's perfect timing for a new study showing the link between increased citrus consumption and decreased stroke risk. You already know that five-a-day fruit and veggie consumption is good for your health, but now researchers are finding out specifically how and why. A recent study followed nearly 70,000 women over 14 years, having them report their food intake every four years. Researchers examined women's diets for all six main subclasses of flavaonoids, which helped them zero in on the flavanones in citrus. Women who ate the most citrus had a 19 percent lower risk of ischemic stroke than those who ate the least. Ischemic stroke—the most common type of stroke—is the type that occurs when blood flow to the brain is blocked.
Previous studies have shown a link between eating white fruits, such as apples and pears, and reduced stroke risk, and now these benefits seem to extend to yellow and orange fruits as well. The rainbow of healthy eating just keeps expanding.
Stroke is the third-leading cause of death in the United States, after heart disease and cancer. It strikes one American every 45 seconds and kills one American every three minutes.
Stroke need not be a given, however, or chalked up to factors like genetics. Studies have shown that the artery-clogging effects of cholesterol and saturated fat in animal products limit the blood supply to the brain, which can lead to a stroke. A similar neurological mechanism may explain the link between a diet high in animal products and Alzheimer's disease as well. Luckily, we know that the average vegetarian has a cholesterol level of 161—versus 210 for the average American—and that number falls to 133 for vegans.
Switching to a meat-free diet can also reverse atherosclerosis, or hardening of the arteries. The flavanones in citrus are a factor, reducing inflammation and improving overall blood vessel health, which may explain the observed reduction in stroke risk.
Although more studies will be needed to show exactly how the mechanism works between citrus and stroke, it certainly can't hurt to pile vibrantly hued citrus into your shopping cart in the meantime. Just be sure to stick to citrus in its whole form, as many juices contain high amounts of added sugar. But between grapefruit, tangelos, clementines, blood oranges, and Buddha's hands, you have plenty of citrus to choose from, and many tasty ways to take advantage of this welcome health news.