Compassion Comes Full Circle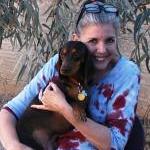 I have always believed that animals are masterful teachers, but little did I know that it would be animals who would create a divine detour in my life. It happened when I found a brochure in the back of the church hall in which our local animal rights group was meeting that alluded to "the interconnectedness of all life," and it changed the way I thought about spirituality forever.
That was 20 years ago, and since that day, my commitment to the spiritual nature of animals has been unyielding. While many people understand that kindness and compassion for animals is essential, I felt I was being guided to an even higher vision and deeper understanding. Regardless of one's faith tradition, kindness and compassion for animals—all animals—must be viewed as a part of any core spiritual values.
The strength of that conviction subsequently guided me through many rewarding experiences. I introduced Humane Education principles into the youth ministry at my church, which also established an Animal Kinship Ministry—an invaluable congregant and community resource. We got approval to place a PETA "Vegetarian Starter Kit" kiosk on church grounds and offered vegan food samples on Sundays.
My spiritual connection with animals led me to attend theology school to earn a more formal credentialing. My hope was to help create an entirely new, blended paradigm for animals and the world of faith. While I'd previously found faith leaders generally amenable to suggestions like hosting animal blessings and adoption events, I sometimes felt that a true understanding of the plight of all the world's animals was absent in their reality. I still saw meat-based meals at church celebrations—and fur coats still made their way into the sanctuary. I envisioned a deeper understanding of the spirituality of animals, one woven into the very fabric of each faith leader—not a patch to be sewn on afterward.
Since that first evening in the church hall, animals had led me purposefully, and I had no reason to doubt them now. So when I approached the dean of my school with the suggestion of introducing an Animal Chaplain ordination program, it was no surprise when he expressed his delight! And when I returned a few months later to ask about the addition of a department of Humane Religious Studies, offering Bachelor's, Master's, and Doctoral degree programs, he was genuinely thrilled!
Animals will now have a new and enlightened generation of faith leaders who step into their roles with a full and rich understanding of the divinity that resides within each and every animal with whom we share the planet. They will also have a comprehensive understanding of the issues encountered by those animals. And that brings the journey full circle. Animals guided me to pursue this path—and now it is my privilege to do all I can to return the favor. In many ways, the work is just beginning!
How have these masterful teachers guided YOU in your life or work?