Adventures in Veganizing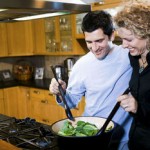 When I went vegetarian in 1995, I figured I would need just a few months to finish the job and go vegan. After all, my whole motivation to go vegetarian in the first place was to reduce animal suffering, and some of the very worst abuses are endured by dairy cows and egg-laying hens.  But 11 years went by, and I still wasn't ready to take the cheese, butter, and eggs off my plate–I just loved the taste of them. Then in 2006 I attended a catered PETA event, and on the way home afterwards I said to my husband, "You know, that wasn't just the best weekend of vegan food I ever had, that was some of the best food, period!" I had been so focused on what I would be giving up that I had lost sight of what I would gain: delicious meals and the satisfaction of preventing animal suffering.
So we both decided to try a vegan diet. Our first order of business was breakfast. My parents are British,  which means that I come from a long line of people with great respect for a proper breakfast–a bowl of cereal just won't do! What was I going to butter my toast with? Yes, jam or a hummus spread would undoubtedly be healthier, but dammit, I wanted real toast. When I discovered the marvelous Earth Balance Buttery Spread,  I was so happy I nearly cried. It tastes like butter, it has no trans fats, you can sauté and bake with it, and it's widely available.
Converting our favorite dinner recipes to vegan was much easier than I expected. Milk or cream needed for a sauce? Soy milk and soy creamer work great. Creamy dip? Start with some Veganaise and you can't go wrong.
My fears about having to give up pizza were soon laid to rest. Follow Your Heart's "Vegan Gourmet" Mozzarella cheese will actually melt (unlike many vegan cheeses), so it's a great pizza topper. And pizza without any cheese is surprisingly yummy, especially when you heap on the caramelized onions, artichokes, and roasted bell peppers.
Faux meats are now widely available,  and we did many taste tests to identify our favorites. Morningstar Farms makes "Meal Starters" Chik'n Strips, which make a great chicken substitute in everything from stir-fries to chicken Caesar salad. We always keep some vegan burgers in the freezer for a quick lunch, and vegan ground "beef" is great for tacos. Try out some different brands–some will work for you and some won't, but with so many faux meats available, you're sure to find something you enjoy.
Vegan baking can be tricky, since eggs can't be replaced as simply as milk or butter can. I found that many vegan cookie recipes start with ingredients like applesauce or canola oil to produce healthy, low-fat cookies. Nothing wrong with that, but when I break out the measuring cups, I want to end up with some hard-hitting, high-fat baked goods that will make people sing the "Hallelujah" chorus. The Joy of Vegan Baking is packed full of that kind of recipe, and I love serving those cookies to friends who think "vegan baking" is an oxymoron. And don't forget that you can eat all the raw vegan cookie dough you want without worrying about salmonella!
Overall, our diet is tastier–and healthier–than it was before we veganized. I'm making more meals from scratch and learning new ways to cook our favorite vegetables and grains. But nothing beats the knowledge that every meal we eat is cruelty-free.
I'd love to hear in the comments about your own adventures in veganizing.