A New Year's Eve Dog Rescue: How You Can Prevent Tragedy on December 31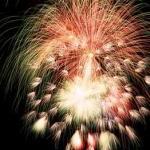 As people break into "Auld Lang Syne," kiss, blow noisemakers, and raise a toast to the New Year, the noise of fireworks will be causing untold numbers of terrified dogs to flee from their backyards and even their homes. I'd like to raise a toast to my colleagues at PETA who bravely attempted to rescue a stray Rottweiler a few years ago on a cold December 31 in Norfolk—and another toast to all those who act now to prevent similar stories from taking place. Maybe you'll save a life—or tell us how you did already!
You are probably aware that PETA's nationwide cruelty caseworkers are on—call 24 hours a day, 365 days a year. And New Year's Eve is no exception. One New Year's Eve night, a frantic cry for help came into PETA's emergency pager from kind people who spotted a stray Rottweiler dog in trouble. The poor dog had become mired in the muck of a tidal marsh after running down city streets in a sad attempt to escape fireworks that were being set off by kids in his neighborhood. Officials had been out and saw the dog, but they left the scene because the rescue was deemed "too difficult." But PETA doesn't give up, and with the tide coming in, a number of us left our homes to help.
The large marsh area was surrounded by thick shrubs, tall grass, and broken bottles. PETA's crew spread out to every street bordering the little bay and scrambled through freezing muck and ice to reach the almost indefinable shoreline to try to find the dog. After what seemed an eternity of calling and looking, the dog was spotted! His eyes glowed in the distance as our flashlights made the mark. This poor dog was far from shore engaged in a desperate struggle to escape the rising waters. The muck was acting like quicksand. After spotting a small rowboat in somebody's backyard, two PETA staffers clambered in and slowly rowed out to the dog. They tried to balance the need for haste to beat the rising water with the need to avoid frightening the dog.
The dog was weak but fearful when the two rescuers reached him and somehow managed to pull his huge body into the boat without tipping it over. They immediately covered him with a blanket and continued speaking reassuring words; he finally relaxed, knowing he was in the hands of kind strangers. Once back on shore, the dog was loaded into a PETA rescue vehicle in preparation for a trip to the emergency vet. Unfortunately, despite the heroic efforts of the two who had saved him from the horrible death of drowning, the dog didn't make it. He died on the way to the hospital. A very sad start to the new year. Perhaps you know a similar story.
Please warn family and friends, and speak out to neighbors with dogs, about the dangers of fireworks. Dogs will throw themselves through windows and jump or dig under fences in a vain attempt to flee fireworks. Cats and wildlife suffer too. Let's hope PETA will win the campaign to replace fireworks displays with laser lights or other entertainment. That'll be another reason to raise a toast!