Helping the Dogs Others Have Forgotten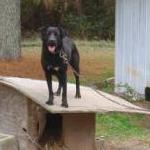 Most of us have seen them in our neighborhoods: lonely dogs relegated to a small patch of dirt, weighed down by heavy chains or trapped in a tiny pen. They often have no shelter from the weather, little food, and dirty water. Their bodies are ravaged by fleas, ticks, and internal parasites. Affection and treats are things that they can only dream of.
These victims of human cruelty exist in PETA's neighborhood, too, and our Community Animal Project (CAP) workers travel through southern Virginia and North Carolina every day, in all weather extremes, to ease their suffering. These are just a few of their stories:
One sweet black Labrador mix whom CAP helped didn't even have a name. When the staffers arrived, the dog was so overjoyed to have someone near that she was practically dancing, jumping up and down and begging to be petted. They showered her with love, did their best to spruce up her dismal area, and talked to her owners about improving her living conditions. They will be back to check on this sweet girl and give her more affection.
A regular client of CAP is Mariah, a playful Lab mix. Thanks to PETA, she has been spayed and her ramshackle doghouse and heavy chain have been replaced with a sturdy, straw-filled shelter and lightweight tether. Her elderly owners provide her with food and some attention, but the only time that she is free from the tether is when CAP workers stop by to take her for a walk. Mariah gets frantic with excitement and exudes happiness when she gets to see and smell the world beyond her backyard.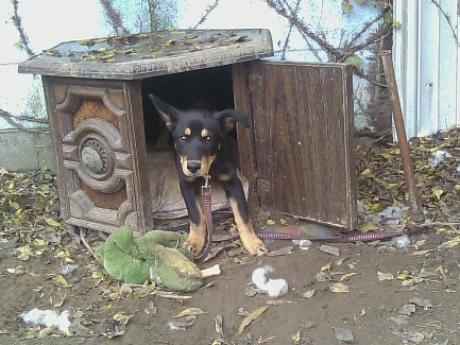 When Max's owner called PETA about getting a free doghouse, CAP workers paid a visit and found the puppy living inside an old television stand on a tether barely long enough for him to reach his "shelter." Since chaining is prohibited in Max's town, CAP workers persuaded the owner to surrender him. Now instead of a patch of dirt, Max has a cozy carpeted floor, and instead of being held by a tether, he is held by a family that loves him.
Most of the dogs CAP helps aren't lucky enough to live in areas in which chaining ordinances allow workers to rescue them from their solitary lives. In those cases, staffers work to improve the dogs' lives by providing sturdy doghouses, fresh straw bedding, nutritious food, clean water, the first toys and treats many dogs have ever received, and the affection that they desperately crave. CAP staffers urge (and often convince) owners to better care for the animals, and they keep coming back to clean the dogs' areas and give them affection and toys to ease their loneliness.
CAP relies on donations to purchase everything from chew toys to wood to build cozy doghouses that will protect these neglected animals from winter's frigid temperatures. This winter, you can make life better for a cold, lonely "outside dog" by sponsoring a comfortable doghouse for an animal in need.