Prime Book Review: Veganist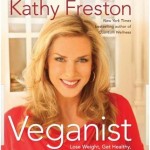 It's a book! It's a word! It's Veganist! Bestselling author Kathy Freston has given the world not only a great new book but also a wonderful new word. Freston gives the following definition of the new word on her book jacket:
Ve-gan-ist (vee guhn ist) n.
1. Someone who looks closely at all of the implications of their food choices and chooses to lean into a plant-based diet;
2. Progress, not perfection.
In Veganist: Lose Weight, Get Healthy, Change the World, Freston uses a holistic approach to take readers on a journey through 10 reasons—which she calls "promises"—to embrace a plant-based diet. Her 10 promises are: maintain an ideal body weight, lower the risk for disease, live longer, avoid infections, save money, help the environment, reduce world hunger, reduce animal suffering, follow great spiritual traditions, and help change the world.
Each promise starts with some fast facts and then goes into a more in-depth explanation. Freston provides a wealth of enlightening information on each promise. Some of the promises include commentary from experts in their field, including Dr. Dean Ornish on losing weight, Dr. T. Colin Campbell on diet and cancer, and Dr. Neal Barnard on diabetes. There are also insightful stories from folks who have witnessed a promise fulfilled.
An important aspect of Freston's veganist philosophy is the concept of leaning into a vegan diet. She's realistic enough to know that for many people, the shift to a plant-based diet is quite a challenge. She urges readers to travel at their own speed, even if it's just making small changes at first—to lean into a plant-based diet one meal or one food item at a time. To that end, Freston's afterword ("Making the Shift") provides invaluable insights. For example, don't drive yourself or others crazy about foods that contain less than 2 percent of animal-derived products. (Remember the second definition of "veganist": "Progress, not perfection.") Also included in the book are three weeks of meal suggestions, a shopping list, and resources.
A must-read section at the end of the book is called "Frequently Asked Questions, Answered by the Doctor." Dr. Neal Barnard tackles all those pesky questions that everyone keeps asking us vegans, such as what about iron, protein, vitamins, calcium, soy, pregnancy, nursing, kids, etc.?
In addition to her two previous bestsellers—The One and Quantum Wellness—Freston has appeared on The Oprah Winfrey Show, Ellen, Dr. Oz, The View, Good Morning America, and CBS' the Early Show. Her work has been featured in Vanity Fair, Harper's Bazaar, Self, W, and Fitness, and she is a regular contributor to The Huffington Post. You can read more about Freston and Veganist on her website.
This is a book that you'll want to read and share—and lean into! You can buy a copy and support PETA's work for animals at the same time by making your purchase through the Barnes & Noble link at the PETA Mall.