A Greener Garden for You and Your Dog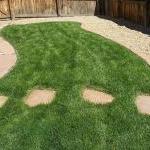 Unfortunately, there are no plants that can withstand all of the heavy foot traffic or urine burns from our four-legged friends. However, there are ways to organize your garden so that your doggie can play while minimizing the problem of dead sod and the frustrations that go along with having to fix it!
Canine Racetrack: Most dogs run the perimeter of the fence for squirrel patrol and to bark at the neighbor's dogs or people who walk by their yard. Dogs typically make a bee line for their racetrack. My solution is simple—remove the sod along the fence, creating a 3-foot pathway for them.
It's best to use 1.5-inch round river rock than various types of granite or pea gravel. Granite is jagged and pokes their paw pads, and pea gravel migrates too quickly. Or install cheap pavers along the fence. If you really want plants in Fido's racetrack, use vines or create a 5-foot perimeter and install plants on the border so that dogs can run back and forth without dodging plants.
Bathroom Areas: If your dog goes to the bathroom in numerous areas, you can actually apply a product that neutralizes the urine and eliminates dead spots. Even better, you can train your dogs to use primarily only certain areas in your yard. Simply start putting their feces in the desired area, and they will tend to start using the area that has their droppings. When you see them using it, be sure to praise and reward them AFTER they're done eliminating.
If your sod is dead in those one or two areas because your dog is using specific places to eliminate, tear out the affected sod and create a new garden in the area. Again, use 1.5-inch round river rock and strategically place plantings around their bathroom habits. It's nice to incorporate winter features or year-round plantings to hide the feces if you are unable to clean up on a cold or snowy day.
If your male dog is lifting his leg on a specific plant, do not continue to replace the plant, simply remove it and install an inanimate object, such as a boulder, planter, statue, etc. I call this the "fire hydrant" solution". Your dog will continue to use this area, but you won't have to worry about it.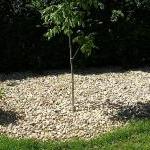 Dogs' habits actually make your yard more interesting. Take some time to observe their natural behaviors and design your garden around them. By tearing out sod along the fence or creating new elevations or a shrub/perennial garden, you are adding new organic shapes so that your yard is no longer a "box of sod." Also, by adding objects in your garden, such as a "fire hydrant," your yard has year-round interest. Plus, you don't have to have a green thumb to keep inanimate objects alive!