Sioux Falls: Sculptures From Streets to Prairie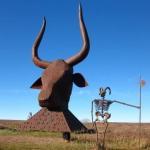 "Welded Bliss" was the highlight of my recent trip to South Dakota—touring eye—and mind-tingling I-90 roadside metal works with their makers.When a 60-foot-tall rust-red bull's head looms on the high-plains horizon, you know you're approaching Porter Sculpture Park. Located in Montrose, 25 minutes west of Sioux Falls, the park features large, brightly hued sculptures. Some are kinetic, moved by wind or hand. All hold stories and riddles. Artist Wayne Porter shared them with me as we walked through the field, with his 12-year-old Australian shepherd, Honey, leading the way.
"My father was a blacksmith," Porter says. At age 3, he began repurposing his dad's scraps. "I made a bull's head pendant. The bulls kept getting bigger."
Porter lives a couple of miles from his roadside spectacle on a sheep ranch that he, a vegetarian, turned into a vegetable farm. His current project: building a 40-foot, 7-ton horse. Porter works with purchased metals as well as found objects such as vintage planting tools, wagon wheels, pedal cars, grills (vehicular and barbecue), and chains. "Creature From the Black Lagoon" sports an ancient compressor, and vermillion flower petals undulate from atop the hulking blue cement-mixer tub of another piece.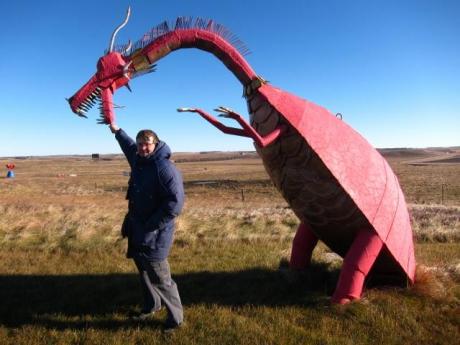 Nearly 50 figures of various species populate the garden; they often have stories instead of names. Battling boars mirror territorial human behavior; buzzards represent reincarnated politicians. The purpose of life is a recurrent theme. Porter and I talked about choices, such as mindful and ethical eating. He likes to ask visitors what they read and eat because what we consume informs who we are.
Porter also has works on view in Sioux Falls, which has turned into an impressive outdoor art gallery in recent years. Its SculptureWalk runs along downtown streets and along the paths of the city's parks—including the revitalized 123-acre Falls Park with its spectacular triple waterfalls (and seasonal evening laser shows). Works by established and emerging artists change yearly and are set on pedestals carved from locally quarried pink quartzite.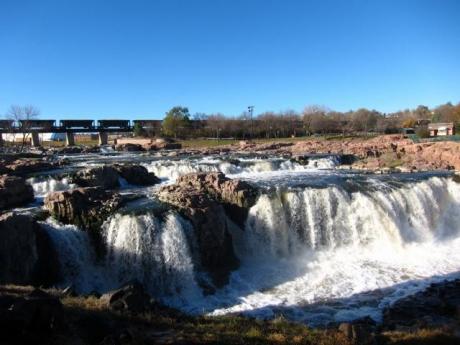 The works represent a variety of media and subjects; the number of animals reflects the awe and affinity that we humans have for other species.
Among my favorites: the "Cherapa Buffalo," created from rusted metal; the "Monarch of the Plains," funded by selling 25 smaller versions to businesses and art collectors; the origami-inspired "Four Cranes"; and the "Ojibwa River." Businesses support SculptureWalk by purchasing some of the pieces, as the Holiday Inn did with the "Lioness With Cub."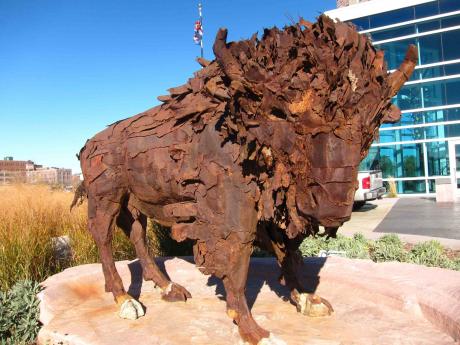 There are plenty of indoors activities as well. Don't miss the superb galleries at Washington Pavilion of Arts and Sciences, housed in a former school recently converted into a splendid cultural center, complete with a world-class theater. For fascinating trips into yesteryear, don't miss the free exhibits at Old Courthouse Museum and the green-certified Museum of Visual Materials, which has a listening room for playing its super-cool record albums.
Sioux Falls is a walkable city, but it also runs a free trolley around downtown and Falls Park, starting in the spring and running through mid-October.
Wondering about the food scene? Vegans, rejoice! First off, there's Sanaa's Eighth Street Gourmet. Local celeb-chef Sanaa embraces vegan cooking at her Mediterranean outpost committed to sustainability.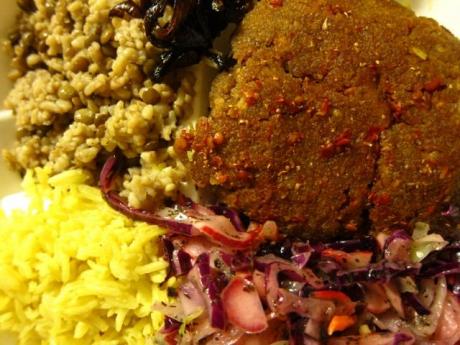 Buffaloberries features a vegilicious "Select Ingredient Bar," which has options ranging from salads to whole-grain "pizzitas." At Michelle's, enjoy overstuffed wraps, herby soups, and great coffee while surrounded by local artwork.
For more dining, check out Veg Guide . For Sioux Falls visitor information, call 1-800-333-2072 or visit http://www.siouxfallscvb.com.