Planning a Simple Animal-Friendly Landscape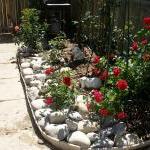 Have you ever wondered how you can have a great animal-friendly landscape without doing too much work? The answer is simple-start with the perfect master plan. Putting in the time upfront to plan will actually reduce the time and energy you will need to spend on maintenance in the future. And trust me-it will eliminate much of your landscaping frustrations.
If you have a dog, let him or her be your muse in your design and planning. Identify your dog's good and bad habits and create the perfect design for all of them. And start simple. The best plan is one that allows you to add elements easily.
I start by incorporating materials that can withstand heavy foot traffic and urine burns. Another first step is to plan on using plants that deter dogs from eating them. Thankfully, dogs are habitual, so they make it easy to create a beautiful master plan that they, too, will enjoy. For example, most dogs will run right through your grass or garden to get to a fence. Instead of trying to get your dogs to change this behavior, simply watch to see where their natural paths are and use flagstone on the paths they've created. Installing flagstone on the most heavily traveled areas used by dogs allows them to continue their habit without harming any plants. This also creates an interesting, natural pattern in your yard.
Since the majority of dogs run along the fence, I always create a "canine racetrack" which is usually 3 feet wide-that is comfortable for dogs to run along. Check out my recent post on rocks and dogs to learn about good, safe materials to use for your racetrack if your dog has a tendency to eat rocks.
With a racetrack installed, you will no longer have to do the extra work of removing dead sod along the fence, and you will have beautiful organic shapes of grass in your back yard instead of the typical "box of sod."
When clients are frustrated because their dogs are eating plants, I use material that is nontoxic and thorny or textured.  Raised beds also work to deter dogs from entering gardens or munching on plants. Also, don't plan on using wood mulch because, for some reason, many dogs love to dig in it or eat it. I don't know why wood triggers digging in dogs, but I've seen dogs (especially beagles) dig through chicken wire to get to a tree root-plus, it gets tracked all over the yard. And if your male dog loves to lift his leg on plant material, plan on placing a few doggie fire hydrants in your garden.
With these basic tips, you can create a low-maintenance, animal-friendly yard that is both beautiful in design and functional for yourself and your furry companions.