My Sweet Vegan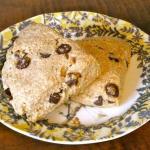 The newest addition to my cookbook collection, My Sweet Vegan by Hannah Kaminsky, is all about baking, and how sweet it is! I have to warn you that the recipes are often sugary, but they are oh-so-delicious and decadent. It's the perfect cookbook to have around for that special occasion—or for impressing your nonvegan friends and family.
Kaminsky wrote My Sweet Vegan while she was still in high school—she not only invented all the recipes but also took all the photographs that are included in the book. And there are lots of photos, one for each delicious recipe. I love cookbooks with pictures; they help me decide which recipe I want to make first and give me an idea of what the finished product will look like.
The Decadent Almond Cake With Chocolate Ganache Frosting, the very first recipe I tried, uses almond meal as part of the "flour" in the cake, making it extremely light and moist. My local Trader Joe's sells bags of almond meal at a reasonable price, but you can always grind up whole almonds in a Vitamix or food processor. I decorated the cake with pistachio nuts, and let me tell you, that cake did not last long in my house!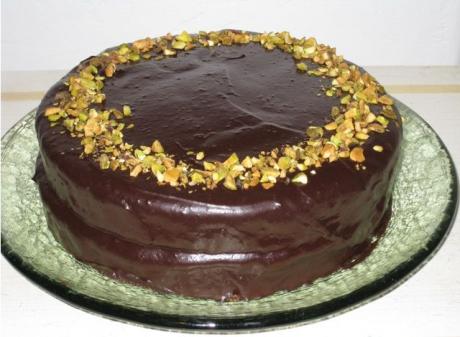 I made the Peanut Butter Scones for breakfast (pictured in the small image above), and they were delicious. Kaminsky uses peanut butter to replace a lot of the margarine found in most scone recipes, making these lighter than usual. Instead of making the chocolate frosting, I simply threw a handful of chocolate chips into the batter. The scones went perfectly with my morning coffee.
She also includes some unusual recipes—things that you wouldn't find in other cookbooks. The Caramel Macchiato "Cheese" Cake is a vegan variation on a favorite coffee drink that is rarely vegan. It has a chocolate crust with a coffee "cheesecake" and is topped with vanilla and caramel sauces. Then there is the Marshmallow Mud Cake, a chocolate cake with a marshmallow topping and chocolate icing. The Mocha Devastation Cake—with a thick coffee buttercream frosting, chocolate-covered espresso beans in middle, and chocolate ganache on top—won the author the top award at her very first baking competition.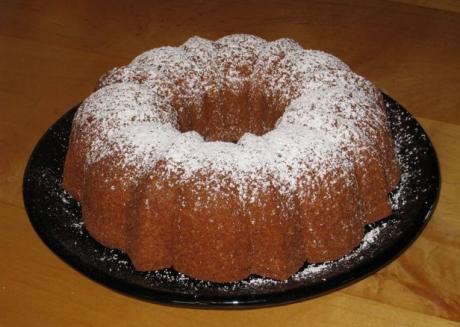 Kaminsky loves coffee and chocolate and many recipes reflect that, but she also includes numerous recipes for cookies, cupcakes, pies, cheesecakes, and muffins using different fruits. She's a big fan of lemons and includes a recipe for Lemon Lime Bundt Cake, using not only lemons and limes but also lemon and lime soy yogurt. I can just imagine how wonderfully citrusy this Bundt cake will taste; it's definitely on my "to bake" list, along with the Poppy Seed Cupcakes With Lemon Curd Filling. And how about the Peach Melba Layer Cake With Raspberry Filling and Vanilla Frosting? I could go on and on—this book has an abundance of recipes that get me excited about baking!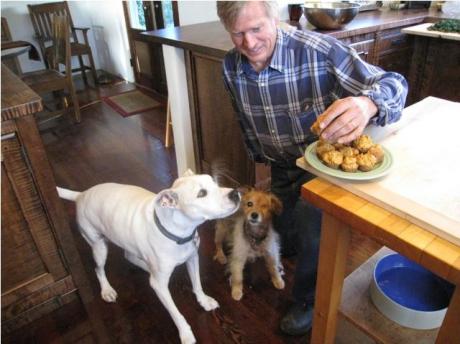 Kaminsky didn't leave out our furry friends, either. Her Canine Cake is made with carrots, peanut butter, and applesauce, three ingredients that my dogs love. I made a batch into mini-cupcakes, and Lucky and Gracie gobbled them up like candy.
I guarantee that if you are into baking, you will want to add this book to your collection. You can check out the author's blog at bittersweetblog.com; it includes tons of pictures along with more recipes for yummy concoctions. Enjoy!