Palm Springs: Desert Oasis, Modernist Mecca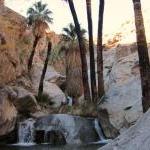 The Palm Springs airport is so visually exhilarating that it took awhile for me to notice the mountains rising in every direction. There are several ranges encircling the Coachella Valley, each with its own geological heritage and textural allure-velvety brown ruffled slopes, quilted green patches, jagged gray outcrops, and snow-crested boulders. Unexpected pleasures of this desert oasis unfold while exploring the modernist architecture, the canyon landscapes, and the San Andreas fault. Yep, you can walk the faultline!The airport, by the way, was designed by modernist master Donald Wexler, subject of a new retrospective at the Palm Springs Art Museum. The city's annual Modernism Week runs February 17 to 27, with events ranging from open-house tours to an Airstream trailer exhibition. But anytime, you can enjoy mid-century modern home and hotel tours, mountain hikes, sunny weather (although intense in the summer), and plant-centric foodie fare.
Sure, Palm Springs is known for celebrity-spotting, golf, the Follies  (the 20th year anniversary show features a jaw-dropping juggling extravaganza by Rejean St. Jules and a glitzy golden-showgirl revue), and Rat Pack-era clubs. But many come to ogle the town's mid-century modern architectural gems. For me, the showstoppers are the California fan palm oases-the world's largest concentration, rising around streams and waterfalls in the desert mountain canyons.
Then there are the ever-present people walking dogs, day and night, in handcrafted halters, chest slings, strollers, and handmade bike trailers.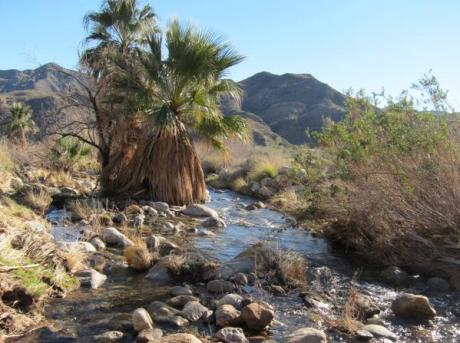 A bit south of downtown lies Indian Canyons.  Once marred by graffiti and trash, the Agua Caliente reservation's land is now a quiet, pristine oasis, thanks to a 1998 decision to establish trails and tribal rangers. During a guided hike, I learned that hunter-gatherers relied on indigenous plants for nutrition, medicine, sandals, tools, and shelter. Key plants include honey mesquite (bead pods are good mashed), desert lavender (seasoning, wound-healing), arrowweed (eyewash, digestive aid, edible roots, building material), cactus (edible blossoms, prickly pear pads used for tasty nopales), yerba santa (health drink), and pinon trees (pine nuts). Baskets woven tight with deer grass were used to carry water from springs and streams. What a vision: rushing brooks and waterfalls amid majestic palms and mountains.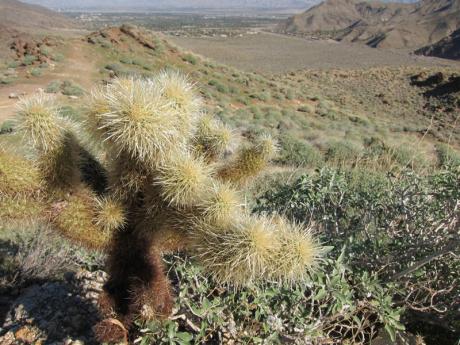 Interdependency of species, evaporation of the nearby inland Salton Sea, and earthquake insight made for a lively, enlightening Desert Adventures tour along the San Andreas fault in Indio, which is a 20-minute drive southeast of downtown. Guide Eric Harmon explained how coyotes and birds are critical to desert health, digesting (and then excreting) palm berries in such a way at to propagate lifegiving plants.
Lodging options include modernist, adults-only boutique hotels with palm-shaded pools, hot tubs, and vegan-friendly breakfasts. Orbit In features 50s furnishings from Eames chairs to lava lamps. For hip minimalism, there's The Horizon, designed in 1952 by William F. Cody. Anyone traveling with (or without) dogs will be wowed by the 50s Hollywood regency glam of Viceroy.
Vegan restaurants in the desert? These three places, which were all packed when I visited, offer such a tantalizing selection of vegan entrées, salads, wraps, power drinks, and desserts that they warrant repeat visits: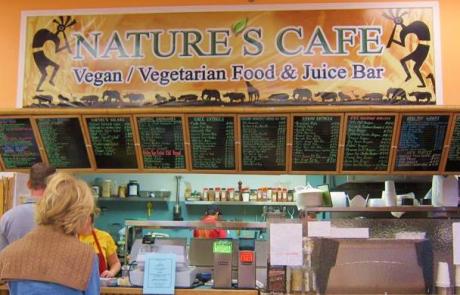 Nature's Health Food & Cafe is a few blocks east of downtown on Sunrise Way. The store has lots of yummy, ethical items; the café has vegan choices aplenty. Owner José Felix has cooked here for nearly 20 years, adding Middle Eastern, Spanish, and Mexican accents to many dishes. I usually avoid mock meat, but I tried the daily special, ginger faux chicken with bok choy. I Loved it. The coconut cream-based tiramisu? Outstanding texture and flavor. "Everything's fantastic here," said Ellen Gales, among the regulars surrounding the counter. "Simple atmosphere, serious gourmet food."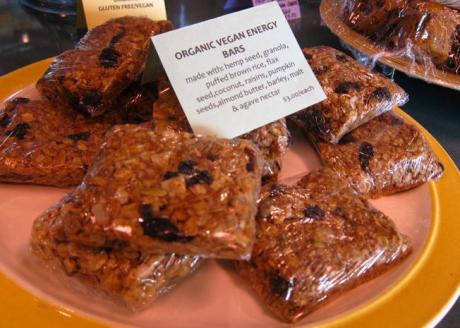 Palm Greens Café is on the south end of the main drag. It's organic with mostly vegetarian/vegan fare. Peanut sauce fans love the Gado Gado stir-fry. The seed-nut salad has converted tuna-eaters with its mix of Bragg's aminos, seaweed, and flax. Owner Jeff Huyett avoids prepared products and achieves robust flavors with whole ingredients. He shared his belief that foods from animals forced to lead unnatural lives are unethical and unhealthy. The vegan scramble, the vegan lasagne, and the vegan version of the classic Palm Springs "Date Shake" draw omnivores as well as herbivores.
Native Foods is hidden in Smoke Tree Village shopping center on East Palm Canyon Drive. Turns out Chef Tanya, who started this indie chain of vegan restaurants, hails from Palm Springs. I loved the Gandhi Bowl and lemongrass-coconut soup.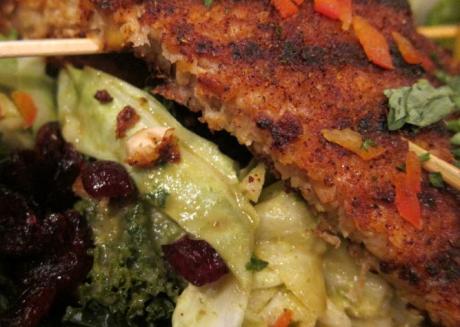 What else? Koffi, the local coffee chain, has delicious fruit-filled, dairy-free oatmeal in a cup. Canyon Flours Bakery just opened a dairy- and gluten-free weekend tasting kitchen/tearoom downtown (some egg-free selections are available). Vegan-centric Veggie and Teahouse will soon open a branch in nearby Cathedral City.
And Thursday evenings, Palm Springs holds an outdoor Villagefest downtown, with handcrafted items (including those ubiquitous doggie slings), musicians, and farm-fresh produce such as scrumptious dates. Homemade vegan energy drinks and breads are available too.
You can get Palm Springs visitor info by clicking here or calling 1-800-347-7746.
Been to Palm Springs? What did you like?