Please Help: Using Petitions to Help Animals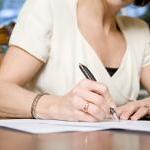 I always look forward to receiving my PETA Animal Times magazine.  One of the first things I do is check out the magazine's "Please Help" section, which includes action items for activists who want to help make this world a better place for animals.
In addition to following PETA's lead and writing my own letters, I create petitions and carry them around in my purse so that I can collect signatures whenever and wherever the opportunity arises. This way, I can integrate my activism into my everyday life and reach the largest number of people in the process.
I word each petition a little differently so that they are geared toward the people I will be coming in contact with. When I go to an animal rights meeting or to a vegetarian potluck, I use a petition with strong language, such as "We pledge to quit eating at McDonald's until it stops its cruel chicken-slaughtering methods." When I am out and about with hardcore carnivores who eat at McDonald's on a regular basis and would never sign a petition saying otherwise, I ask them to sign a petition with softer wording, such as "Please do everything you can to make sure that your suppliers treat their chickens humanely." By having several different petitions handy, I can get signatures from, and engage in dialogue with, people who would never otherwise write to McDonald's.
Another thing to remember is that people often don't like to be the first person to sign a petition, so it's best to have family and friends be the first to sign.
There is power in numbers. We can count on PETA to bring up these issues, but it's up to us to support PETA's efforts by following through and demanding change. And sometimes change is made one signature at a time.
Do you have any other ideas on effective petitioning?