Portland: Movers and Makers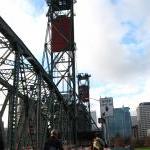 As someone who bikes for recreation and transportation, I couldn't wait to visit what has been dubbed the nation's "bicycle-friendliest" city: Portland, Oregon. This river city of fit, intelligent, creative people is so vibrant that every day of my rainy week, I got pedaling at dawn and rolled into the night.
Portland is visually stimulating, with so many neat bridges (with bike lanes, some of which lead into riverside bike trails), cheerful billboards (with messages ranging from "Adopt a Best Friend" to "Laugh"), historic buildings, an urban wildlife refuge, and even the most authentic Chinese gardens outside of China. Called Lan Su, the gardens were built on a decrepit parking lot, and besides spirit-cleansing scenery, they offer wonderful teas and free tai chi classes.
The whirring of bicycle tires is a metaphor for the creative thinking that is rampant among Portlanders. While perusing the contemporary craft museum and galleries of the Pearl District, I particularly appreciated Gabriel Manca's brawny/compassionate mixed-media works, some of which challenged the premise that Earth's animals and resources exist for humans to exploit.
It's a city with a hearty "DIY" culture; independent businesses abound. New home-growns to seek out around town include Trailhead Coffee Roasters and Missionary Chocolates. Charlie Wicker's heavenly coffees are sourced from a women's farmers co-op, and they are carbon neutral … he pedals his custom coffee cart around festivals and bike events. I love his Guatemala Tree Line Roast, with its notes of chocolate and raspberry. He shares a production facility with Melissa Berry, who handcrafts dairy-free, gluten-free, and absolutely divine missionary chocolates. Truffle varieties include ginger, lemon, and cinnamon chipotle. Find them at fine food stops such as the new Back to Eden Bakery, which makes moon pies, lime coconut cake, and other all-vegan delights.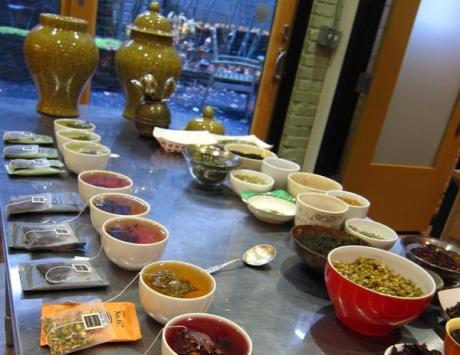 The Steven Smith Teamaker studio-shop was recently opened by the creator of Stash and Tazo teas. He returned from France to handcraft small batches of pure, aromatic teas. A sampling of flavors includes bergamot, Oregon peppermint, and Mao feng shui.
The metro area's nearly 40 breweries produce tasty beers in every category. The craft spirits and cocktail scene is huge. And the region's year-round agricultural bounty supports a sensational array of artisanal foods.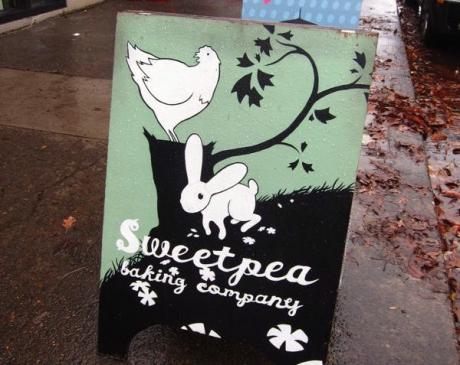 By the way, there's a vegan mini-mall on 12th and S.E. Stark streets-so cool! Sweetpea Bakery's scrumptious treats make for seriously difficult decisions; go with a friend so that you can split a few! Plus, you can find soups and veganized fast-food classics. Herbivore Clothing Co. has a terrific assortment of T-shirts, hats, handbags, wallets, books, and comic books, most made by locals. The imprints range from sweet to in-your-face. Yep, you can order online too. Same goes for Food Fight! Grocery, which is packed with food, sundries, and unique items.
All around Portland, I was struck by the embrace of healthy living, the warm reception of herbivores (plenty of seats at vegan eateries are filled with omnivores), and the absence of ageist and snarky attitudes.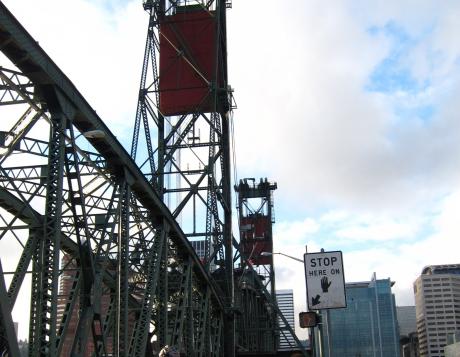 Now for some tips on getting around. The city is divided into quadrants by the Willamette River (which runs north/south) and by Burnside Street (which runs east/west). The cities 10 bridges include the world's only telescoping double-deck vertical lift, which dates back to 1912 and is America's longest tied-arch bridge.
There's no need to rent a car. Portland's public transportation gets it right. There's even a Free Rail Zone (330 downtown blocks where there's no cost to ride MAX light rail trains) as well as trolleys and streetcars (bikes are welcome onboard too). The Max's Red Line makes it easy to get to and from the airport (PDX).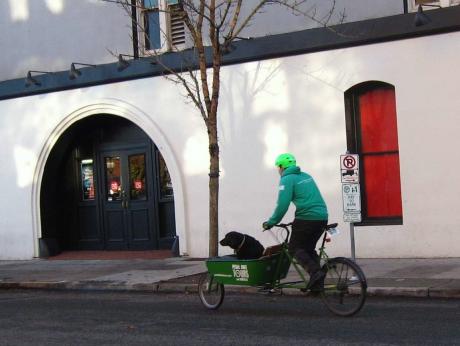 Biking? Get the super "Bike There!" map—it's comprehensive and plastic-coated. Great rental sources include Waterfront Bicycles and Pedal Bike Tours, which offers tours of breweries, landmarks, and parks.
For details about Portland's attractions, events, and money-saving lodging offers, check Travel Portland's website.
So what about the restaurants … the food carts … the vegan gourmet dining scene? They warrant a separate post!
What are some of your favorite things to do in Portland?