The Betty Crocker Project: Garlic Cheesy Biscuits
After watching the movie Julie & Julia, we were intrigued by the idea of an amateur chef cooking her way through a classic cookbook and blogging about it along the way. However, we were horrified by an important scene in the movie in which the lead character "overcomes her fear" of boiling a live lobster and dooms the poor guy to being cooked alive. We decided that there needed to be a humane alternative to the lobster killer—and the Betty Crocker Project was born.
We're currently cooking our way through the classic Betty Crocker Cookbook, making every single one of the more than 1,000 recipes vegan along the way. We've always said that we can make anything vegan—and now we're out to prove it. You can follow along for yourself at meettheshannons.net and also get a taste here at PETA Prime, where we will occasionally cross-post our recipes. The following is one:
Garlic Cheesy Biscuits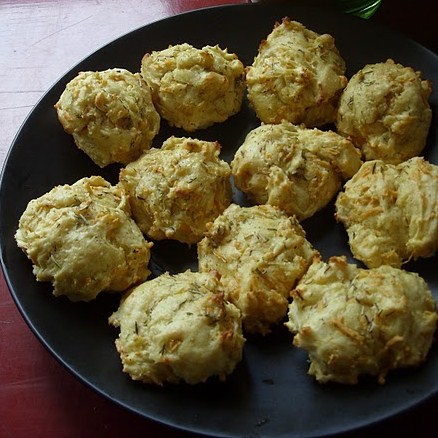 I made these Saturday morning, thinking we could eat them all weekend… but they never saw another sunrise. Yes, we ate the whole batch in one day, and not because we didn't have any other food. Since we started this project, our pantry and fridge have never looked so healthy and big boned. We ate them because Betty's claim that these biscuits are so good they're served in restaurants is not an exaggeration.
2 Cups Original Bisquick Mix
2/3 Cup Soy Milk
2 Tablespoons of Nutritional Yeast
1/2 Cup of Daiya Cheddar Cheese (shredded)
1/4 Cup of Olive Oil
1/4 Teaspoon Garlic Powder
1/4 Teaspoon Garlic (minced)
1/4 Teaspoon Dill
1/4 Teaspoon Thyme
1/4 Teaspoon Rosemary (dried and crushed)
Heat over to 450°. In a bowl, mix Bisquick Mix, Soy Milk and Nutritional Yeast with a hand held mixer until completely mixed. Stir in Daiya Cheese with a spoon.
On an ungreased cookie sheet, drop spoon-sized clumps. They won't be pretty, but it's important that they don't get too thick or they won't bake all the way through.
Bake for around 8-10 minutes. Keep an eye on them. They bake FAST. Pull out once they're golden.
In a bowl, mix Olive Oil, Garlic Powder, Minced Garlic, Dill, Rosemary and Thyme. Once you pull out the biscuits, brush with the herbed Olive Oil.
Once they've cooled, eat them.