The Betty Crocker Project : Beer-Batter Fried Fish (Marinated Tofu)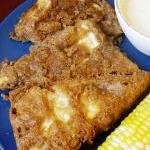 After watching the movie Julie & Julia, we were intrigued by the idea of an amateur chef cooking her way through a classic cookbook and blogging about it along the way. However, we were horrified by an important scene in the movie in which the lead character "overcomes her fear" of boiling a live lobster and dooms the poor guy to being cooked alive. We decided that there needed to be a humane alternative to the lobster killer—and the Betty Crocker Project was born.
We're currently cooking our way through the classic Betty Crocker Cookbook, making every single one of the more than 1,000 recipes vegan along the way. We've always said that we can make anything vegan—and now we're out to prove it. You can follow along for yourself at meettheshannons.net and also get a taste here at PETA Prime, where we will occasionally cross-post our recipes. The following is one:
Beer Batter-Fried Fish (Marinated Tofu)
1 Package Extra Firm Tofu (You may decide to go with a Fake Fish; there are a lot to choose from. If so, you won't need the Miso Soup and Worcester Sauce.)
2 packets of Miso Soup (Make per the packet instructions, and then chill in the fridge until at least room temperature.)
1 1/4 Teaspoon Vegan Worcester Sauce
4 Cups Olive Oil (You need enough to submerge your Tofu Fillets to fry them.)
3 to 4 Tablespoons Bisquick Mix (Make sure you get the vegan version.)
1 Cup Bisquick Mix
1/2 Cup Stout Beer (Don't count the head on the beer when you're measuring!)
1 Tablespoon Applesauce
1/2 Teaspoon Lemon Pepper
1/2 Teaspoon Creole Seasoning
1 Batch of Vegan Tartar Sauce (Recipe here.)
If you're using tofu, cut your block of tofu into 6 triangle slices with a serrated knife to create a "fish" texture to the sides.
Mix your chilled miso soup and worcester sauce in a casserole dish that's large enough to hold the 'Fish', but not so large you won't be able to cover the 'Fish' with the miso marinade. Put your tofu fish in the marinade and let then hang out for around 10 -15 minutes. Turn the a few times to make sure they get an even flavor.
If you're not using tofu, let's just get right to the beer batter, because you can just use your fake fish right out of the package (defrosted, of course). Whatever you're using, from here on out the pieces of fake fish or tofu will be called the "vegan fillet".
Heat your olive oil in a 4 quart dutch oven on a medium heat.
In a shallow dish, put that first portion of 3-4 Tablespoons of Bisquick mix.
In a medium sized bowl, mix the remaining ingredients (except the tartar sauce) with a hand mixer until smooth. If it's too pasty, you can add a dash of beer, but not more than an additional tablespoon.
OK. Once your see your oil start to boil a little, it's time to do this.
Now this can lead to a big mess, but here's a trick to keep your bowls from getting contaminated. Pick one hand to be powder, and one to be batter. Then, using your powder hand, take one of the vegan fillets and put it into the Bisquick powder, and only using that hand, cover the fillet. You want to tap it a bit to get a good cover, and make sure you get the sides.
Then, with your powder hand, remove the vegan fillet from the Bisquick powder and put it into the beer batter. Be careful and don't get any beer batter on your powder hand.
Now, using your batter hand, flip and cover the vegan fillet with a healthy amount of beer batter.
Now, using a slotted spoon, remove your beer-battered vegan fillet and place it in the hot oil. The oil should show signs of boiling before you drop your vegan fillet. Be careful to not let your vegan fillet touch the side. Fry the vegan fillet for no more than 5 minutes.
Using your slotted spoon, remove your vegan fillet. Be careful to not break your crusty, golden-delicious batter when you're getting it. Place on a plate with some paper towels to soak up extra oil.
Between vegan fillets, take your slotted spoon and remove any bits of fried batter that have fallen off, so they don't stick to the next vegan fillet.
Just repeat this process for each vegan fillet and enjoy the rest of your beer until you're all done.  Serve it up with some vegan tartar sauce, and maybe some corn on the cob or some fries.