Say It Ain't Soy!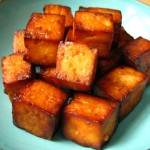 Many vegans and vegetarians worship at the altar of soy since it provides so many delicious and compassionate alternatives to traditional meat. Even the most discerning palate can frequently be fooled by faux offerings made from this versatile bean.
My first exposure to soy was back in the 1970s as a teenager. Back then, it was sold in a dry, crumbly form that we now call textured vegetable protein (TVP). It needed to be reconstituted with water, and then it was typically added to ground beef to extend the number of servings. Soy has quite a storied history; it's been a staple in Asia for many centuries. Soybeans are low in fat and contain no cholesterol-they are also high in proteins, essential fatty acids, and isoflavones, making their health benefits many and varied. The U.S. Food and Drug Administration declared  soy as beneficial in reducing bad cholesterol and serum triglycerides more than 10 years ago!
Eating soy has other benefits as well. According to a study conducted by the University of Illinois, soy may have a positive effect on osteoporosis in postmenopausal women and, because of its isoflavones, may help to minimize estrogen's effects on the body. It's still a good idea to consume a moderate amount, particularly of soy-based powders and supplements, which would introduce more isoflavones into the diet than would a normal dietary intake of soy.
Some feel that the most nutritious forms of soy are those that are fermented. These include natto, which is high in vitamin K2, and tempeh and miso, which are healthy natural probiotics. There are many delicious recipes that include some of these tasty food items!
Soy is, by necessity, a staple for many vegans and vegetarians. To optimize our health and save animal lives, soy is a wonderful choice. Just remember to take ownership of your health as you would with any foods that you ingest. Always check labels and do your best to pick organic items. If you haven't already, consider experimenting with unfermented soy products. There are MORE than many to choose from!
What are your favorite soy foods?