My Experience as a Vegan Recipe Tester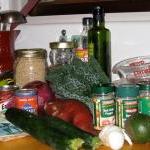 A friend called me up one day several years ago to ask a favor. A vegan cookbook writer whom she was good friends with was working on a deadline for her latest book, and one of the recipe testers had dropped out of the loop. She was desperate for some last-minute help, and since my friend knew that I loved to cook, she thought that I might like to put the recipes to the test. I thought, "Why not?" That was the start of a three-year hobby that took over my life and my kitchen and gave me the best education that I could have hoped for, short of attending an expensive cooking school. I had no idea when I said I would help test recipes that it would change my way of cooking forever, turning me into a better cook than I could have ever imagined.
Here's how it worked: I was sent a list of recipes to choose from, and the recipes I selected were e-mailed to me with my deadlines. I would cook, take notes, take pictures, taste-test, and report back. If the recipe was perfect, it was approved and set aside for publication. If the dish did not turn out as planned, the cookbook writer took it back to the drawing board and re-tested it herself. I could also make suggestions and re-test, which I did more often as my cooking skills increased.
The meals that my husband and I enjoyed during those recipe-testing years were incredible. I started by choosing simple recipes with common ingredients, but by the end, I was picking more complicated recipes and putting together some delicious concoctions. I cooked with tofu, tempeh, and seitan. I used every vegetable imaginable and an assortment of condiments, spices, and herbs. Nuts, fruits, peanut butter, and even chocolate were added to dishes. Asian recipes always seemed challenging to me, but I was eventually cooking them with ease. I learned to make homemade sauces, something I had always bought in jars. I made 10 different kinds of chili and as many different pizzas. I can't even count the number of appetizers, soups, salads, pasta dishes, veggie burgers, main dishes, and desserts I tested.
I even learned to bake. I tested the recipes for cakes, cookies, crumbles, tarts, scones, muffins, and breads. I whipped up frostings, and I created pie crusts. Not only did my desserts start tasting better, they also started looking better. In fact, baking is now my new passion, and when I have a free Sunday afternoon, I love nothing more than to spend the time in my kitchen baking a cake or a batch of cookies to enjoy throughout the week or to share with friends.
If you love to cook and eat delicious vegan foods and have the chance to help a chef or cookbook writer with recipe testing, I suggest that you give it a try. If the opportunity to test recipes doesn't come up for you but you would like to expand your repertoire, here is another suggestion. Each week, assign yourself at least one recipe from your favorite cookbook, website, or magazine. Pick recipes you have never cooked before, then stick to your schedule as if you were testing these recipes for someone else. Take notes and pictures for future reference. You could even create your own website and share your creations with friends and family. You will definitely become a better cook—most likely a superior one—and I can guarantee that you will have more fun in the kitchen than you ever thought you could. I am much more adventurous in the kitchen now and try new recipes all the time, making use of my ever-growing collection of vegan cookbooks.
Recipe testing is an awesome hobby for anyone who loves to cook, whether you test them for someone else or simply for yourself.