Can Vegetable Sushi Save the Planet? Becoming Enlightened in New Haven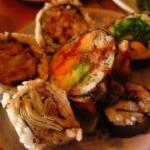 Having found what may be the most sustainable sushi restaurant—and the one with the most plant-based menu items—it was hard to leave Miya's Sushi when I visited New Haven, Connecticut. That was just one experience proving that you don't have to attend Yale to get a great education in New Haven.
Miya's Sushi has won honors—and has lines out the door-for superb fare and commitment to sustainability. Owner/chef Bun Lai's 53-page seasonal menu offers so many fully plant-based selections, from starters to entrées to desserts, that choosing is a challenge. The menu entertains, entices, and educates diners about issues such as overfishing, endangered species, the perils of farming fish, the suffering of bycatch (nontargeted sea animals who get caught in hauls), and non-native species who outcompete their indigenous counterparts. "I created [the menu] to take pressure off of the oceans and reduce the need for large-scale animal farming," says the chef. He also sees the health value and worldwide economic sustainability of a vegetable-centric diet. An estimated 75 percent of the menu is vegetable-centered.
At Miya's, brawny guys and super-fit gals alike enjoy "Kiss of the Smiling Piggies" (sweet potato mango chutney and pine nuts) and "Sweet Mother's Milk" (whole steamed artichoke with Middle Eastern pureed jalapeno makdous grown in Bun's garden). Eggless tempura? Yep. Is that squid? No, it's shiitake mushrooms. Bun's team has mastered exotic textures and "umami" taste in several animal-free dishes. The homemade pickled ginger and low-salt citrus soy sauce look different—and they're delicious.
On Yale's campus, free tours brim with historical and architectural tidbits, such as why the Sterling Memorial Library resembles a cathedral, how to quickly give a building a well-aged patina, and what materials were used for the Beinecke Rare Book and Manuscript Library's translucent walls (1.3-inch thick marble walls).
Free-admission museums include Yale University Art Gallery and the Yale Center for British Art, where you can contrast varying attitudes about animals. One gallery pulsates with irony. There's a 1767 George Stubbs painting series entitled, "Two Gentlemen Go a-Shooting," adjacent to his "Horse Attacked by Lion," intended to depict "the cruelty and uncontained energy of wild nature." Sad how barbarism was (and still is) widely accepted in "gentle" society. Elsewhere, I admired James Ward's portrayal of a racehorse gazing at three wild horses bounding in the distance.
For tips on flavor-enhancing, chemical-free gardening, visit the Yale Sustainable Food Project farm. Its produce is used on campus and purchased by top area restaurants, says literature-major-turned-gardener Zan Romanoff, as strollers nibble Sun Gold cherry tomatoes, Hakurei turnips, and figs.
Feasting onward … Claire's Corner Copia has specialized in fun vegetarian fare since 1975. Customers range from families with young children to football players. The award-winning eatery, which eliminated trans fats in 2001, has a vegetable garden and offers children's vegetable-garden programs. Owner Claire Criscuolo is a believer in the power of good nutrition to protect one's health.
At BAR, pair a flavorful Toasted Blonde microbrew with a build-your-own wood-fired pizza (with a fine red sauce!) before or after a fantastic, bargain-priced performance at any one of several theaters. Some Yale students also recommended the vegetarian dishes at Thali Too.
A new lodging choice right by campus is The Study at Yale. It offers a collegiate lounge and sleek, smartly designed rooms affording city views, and Heirloom, a farm-to-table restaurant, serves several vegetable-based options. Chef Carey Savona makes yummy pickled pepper corn salsa and a super kale dish.
Ready to visit? Find guidance at http://www.visitnewhaven.com or call 1-800-332-7829.